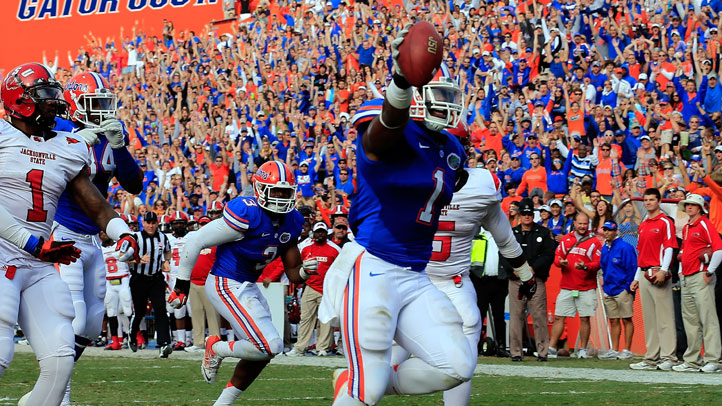 One of the biggest positions the Bears needed to address during the draft was linebacker.
D.J. Williams and James Anderson were bought in to replace Brian Urlacher and Nick Roach, but they aren't expected to be long-term solutions. With that in mind, Bears general manager Phil Emery picked linebackers Jon Bostic and Khaseem Greene.
Both rookies are in the awkard position of replacing a beloved legend in Urlacher, but Florida product Bostic doesn't look at it as pressure.
"It's not pressure at all to me. [I'm] more of a guy that can pretty much watch and learn a lot of things on film," Bostic said in a call with media. "They say they're going to keep a lot of the schemes and the terminology the same, so I'm just really kind of excited to get up there."
Greene played at Rutgers, but wants his learning to continue when he arrives in Chicago. The fourth-round pick knows about the Bears' rich linebacker history.
"It's definitely 'Linebacker U' and if you want to be a young linebacker or be a veteran linebacker or go down in history as one of the greats I don't see a better place to be in where you can come into a place where traditionally produced great linebackers and you still have great linebackers on the team and you can come and learn from them. Lance Briggs, he's one of the greats. Brian Urlacher, who was just there, he's definitely a great linebacker – nobody can [argue] that."
These two are the future of Bears' linebacking, but they have plenty of work to do. Only time and performance will tell if they will get to belong in the great pantheon of Bears' linebackers.
Copyright FREEL - NBC Local Media