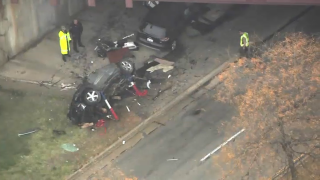 Grand Avenue in suburban Elmhurst was closed in both directions at Interstate 290 as police investigated a crash involving two vehicles Friday afternoon, officials said.
The crash was reported at approximately 1:12 p.m., according to Illinois State Police. Grand Avenue reopened as of 6:08 p.m.
A preliminary investigation revealed the driver of one vehicle was heading westbound on I-290 east of Grand Avenue, and for unknown reasons, left the roadway and drove into a ditch.
The vehicle went airborne and came to rest on Grand Avenue under the interstate and struck a second vehicle, which was traveling on the street, police stated.
Additional details haven't been released.