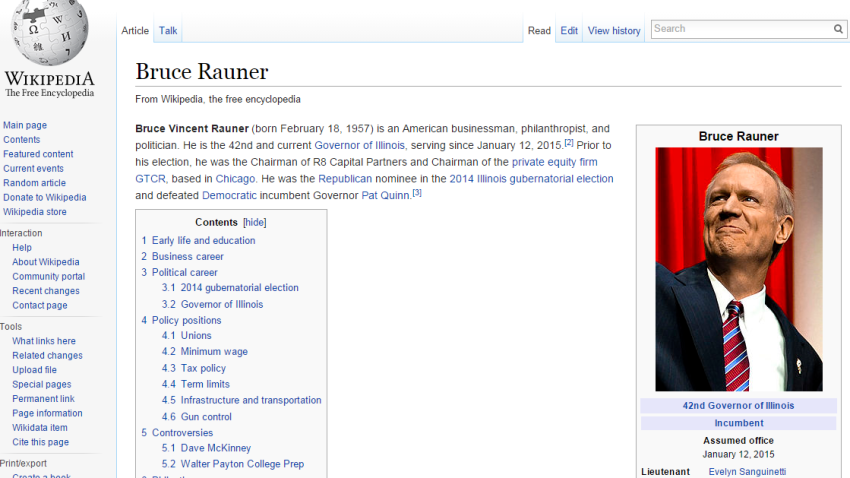 After a tumultuous first year in office, Gov. Bruce Rauner called for "grand compromise" in his second State of the State address Wednesday, but it seems compromise wasn't what some of his critics were after.
Hours after the speech was over, Rauner's Wikipedia page took a barrage of hard-hitting edits Wednesday evening, with the most complimentary of them maybe being that the governor graduated with a degree in economics and "f------ up the whole state."
The stinging edits, which have since been removed, can still be read on the bio's revision history.
They started by changing his name to Bruce "Life-Ruiner" Rauner.
In the place for his successor, "Please literally anyone," was added. "Can we bring Blago back? We at least had a budget under Blago. I mean yes, it took two months but that's better than EIGHT."
Rauner was given a death date in the hack to read "crossing my fingers," with a place of death: "Hell which basically means he will stay in Illinois at this point."
His family wasn't off limits either.
For spouse, "Diana Rauner, who is apparently so special she gets a $100,000 chief of staff while the rest of the state gets LITERALLY NOTHING."
His ex-wife was momentarily renamed Elizabeth "Dodged That Bullet" Rauner.
Under 'Early Life and Education,' the contributor replaced the information on Rauner's father, Vincent Joseph Rauner, a lawyer and senior vice president for Motorola, to be "Lucifer, the literal devil, not unlike his son."
Biohackers weren't the only ones left unhappy after hearing Rauner's address. Illinois Democrats responded by voicing frustrations about the fallout from the state's budget impasse and ongoing financial crisis.
"As early as 2012, Bruce Rauner made it clear that imperiling critical services would help create leverage to his agenda," Speaker of the House Michael Madigan said in a Wednesday memo. "The governor's speech did not make the point there is no budget."