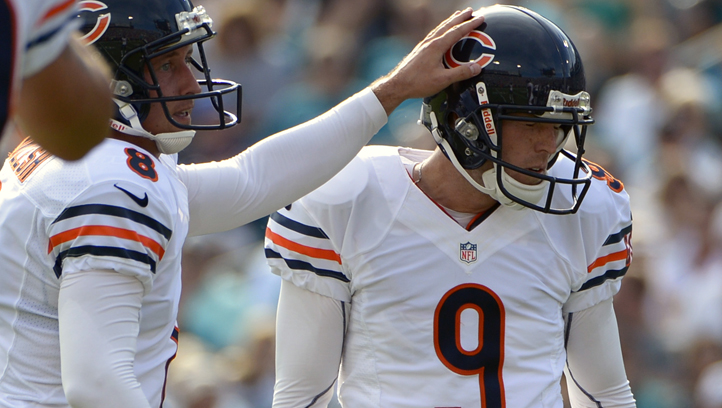 It was the best day of his life and the worst day of his life.
Saturday night, Bears kicker Robbie Gould was with his wife Lauren, at her side while she gave birth to their first child, a son. Just hours later Gould caught a flight to Minneapolis arriving to be with his Bears teammates at 6:30 a.m. on no sleep.
Gould kicked 30 and 40 yard field goals in the first half. Gould has become the most accurate field goal kicker in NFL history, surpassing Mike Vanderjagt's 86.5 percent accuracy. But with :02 seconds remaining in regulation and the game tied, Bears head coach Marc Trestman called on Gould to try a 66-yard attempt inside the Metrodome. It fell short.
Then, things got crazy between the Bears and Vikings. Minnesota kicker Blair Walsh missed a 57-yard attempt in overtime. The Bears marched 24 yards to the Vikings 29 yard line and, on 2nd down, called on Gould to attempt a game winning 47-yarder. That too fell short.
Afterwards in the Bears locker room, an emotional and no doubt exhausted Gould took the blame.
"It was a lot of lessons in one day," Gould said, choking back tears. "It was one of the greatest days of my life. I'm happy for my wife and little boy. Sorry I couldn't do it for my teammates like I did for my wife this morning."
Gould let out a big sigh trying not to let his emotions get the best of him. After missing just one field goal all season, Gould missed two. He has missed only two other game winners in overtime his entire nine year career.
"Oh man, it's hard to swallow you know?" Gould said as he teared up. "We're in a playoff hunt - I love my teammates like I love my wife and my baby, just didn't do it today."
Bears head coach Marc Trestman could have turned to running back Matt Forte who rushed for 120 yards with an average of 5.2 yards per carry. But instead, said it was within Gould's range, and running the ball didn't give them any guarantees. Forte said it was just "bad luck" on the Bears part.
Gould may not rest easy tonight, but the new father has the faith of his teammates.
"We have all the confidence in the world in him," offensive tackle Jermon Bushrod said. "It's just unfortunate the way it happened, but at the end of the day that's our guy. We still got his back."