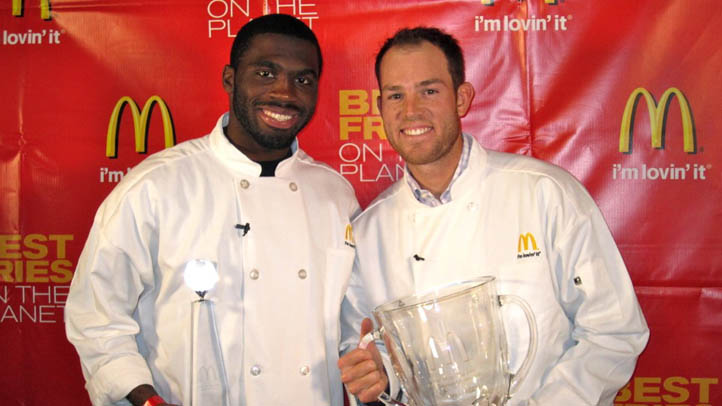 Though they are teammates, Earl Bennett and Robbie Gould were competitors on Friday night at the McDonald's Best with the Best Fry Challenge. Gould emerged victorious, but he must have learned quickly from top Chicago chefs David Blonsky and Cordell McGary. Before the cooking competition, Gould said that the best he knew how to make was ramen noodles.

"A kitchen is not a place where I spend a lot of time, but hopefully I'll be hoisting a large trophy at the end of the night," Gould said.

Bennett, on the other hand, has plans to host Thanksgiving dinner at his house for his family this year, and even splits cooking duties with his wife during season. He learned from his mother.

"I just watched my mom. I loved Thanksgiving time. The turkey, the dressing and the ham," Bennett said.

That doesn't mean Bennett won't stop in at McDonald's for fries, so he was more than happy to do the event on Friday.

"The best fries on the planet. I actually love McDonald's fries. I eat them about every other day. This event is great," he said.

They both had an eye turned toward Sunday's pivotal game with the Lions. Gould said he was looking forward to a chance to even the schedule after losing to the Lions in October.

"We're playing playoff football for the last four weeks. Obviously, when you've got an opportunity to play against a divisional opponent, but to also get a game back from earlier this season. It's a huge game for us."

Last week, Bennett returned from an injury and had 95 receiving yards. He was happy to make an impact so quickly.

"I wanted to come out and help the offense in any way possible, and Coach Martz was doing a great job of coming out to make plays, and I made them," Bennett said.

On Sunday, he'll play against former teammates Rashied Davis and Chris Harris. He said that adds to the fun in the game.

"It's a lot of fun playing against former teammates and friends. Just to play with Chris and Rashied, it's fun. We'll be at Soldier Field so the crowd will be loud."

Though he did some smacktalking with Gould before the cooking challenge, don't expect to see him engage in it on Sunday with his old friends.

"Chris is a big smacktalker. I'm really not. I'll just look at him and be quiet."
Copyright FREEL - NBC Local Media