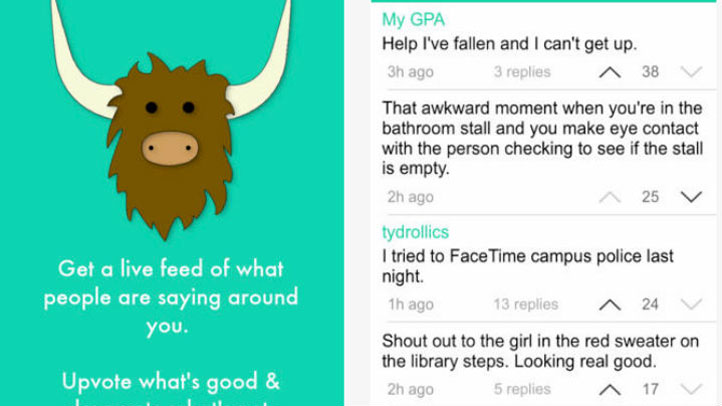 A social media gossip app was disabled in Chicago after local high school administrators and parents expressed concerns that the app was used for cyber bullying.

Yik Yak, an "anonymous social wall" that allows users to post and share their comments to a live feed with other users in a local radius, stirred controversy because of reports that students use the app to bully other students. The app was disabled Thursday, according to the Chicago Tribune.

Prior to the disabling of the app, some schools in the Chicago area took action to try and keep the Yik Yak off their campuses, and several sent letters to parents.

New Trier Township High School district said Wednesday they blocked the app from their wireless network.

In a letter to parents, Denise Hibbard, principal at the Winnetka campus, and Paul Waechtler, principal of the Northfield campus, said officials made the decision to block the app due to the "harmful and inappropriate comments we have seen, in some cases naming other students."

Though access was blocked on the school's network, students could still view and post by turning off the wireless option on their device and using their own mobile network.

"Unfortunately, these apps make it impossible to trace the source of comments, and as a result teens often feel emboldened to target fellow students or make lewd or otherwise damaging posts," the letter read.

Users must be 17 years old to download and post on the live feed, which resembles that of a Twitter feed. A push notification appears during the download process asking a user to confirm they are older than 17, and the user must hit a "confirm" button to continue downloading.

"No profiles, no passwords, it's all anonymous," the app's description reads in the iPhone App Store.

And New Trier wasn't the only school reporting an issue with students abusing the anonymous feed.

Lake Forest High School also sent out a letter Wednesday to inform parents of issues with the app and encourage them to delete it from students' phones. The high school also blocked the app from their wireless network.

"Sadly, we have found that this app is allowing students to verbally abuse each other as well as faculty and staff at LFHS," Principal Barry Rodgers wrote. "Our faculty and Student Council will be addressing this issue at school. We ask that you have a meaningful conversation with your son/daughter. We also recommend deleting the Yik Yak app and reviewing the apps on your child's phone."

According to Yik Yak, the anonymity feature was implemented to eliminate discrimination on posts.

"Your popularity, race, gender, sexuality, and looks don't mean anything on Yik Yak," app officials wrote in a blog post.