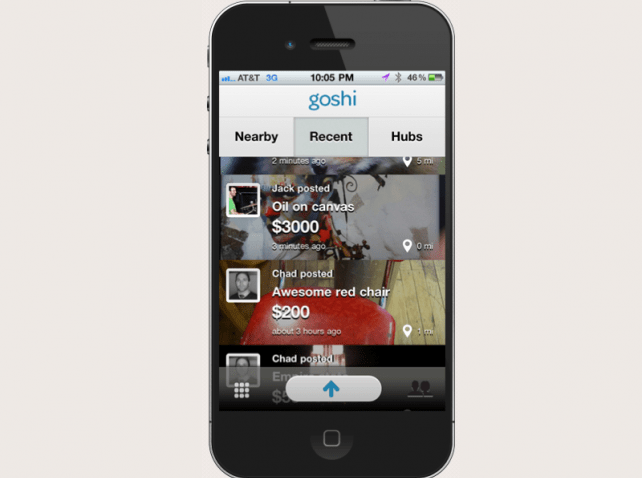 Need to sell some stuff? Need to buy some stuff? There's a new way to do it without placing an ad, posting on billboards in coffeehouses or begging friends to buy it. Goshi, launched in Chicago this week, lets you buy and sell items in your community through your phone.
Goshi is part of tech incubator Excelerate Labs' class of 2011. Developing the app "was a long process," said Goshi co-founder Jack Eisenberg. The product is a newer version of the original idea, with added tweaks from customer feedback.
To post, users take a photo of the item for sale, describe it, assign a price and then post it on Goshi. Unlike Craigslist, all are assigned to a physical space or hub nearby, and buyers meet and purchase. The hub can be any mutually-convenient location where Goshi users tend to go: coffee shops, restaurants, or neighborhood landmarks. Sounds like a good idea to get like-minded people with shared interests paired up to buy stuff.
The "added tweaks" include that instead of private messaging about the product, Goshi posts comments from its users; that way, they're more likely to interact. They also got rid of the search function.
"Chicago is a great place to start a tech product," said Eisenberg, adding that last week's Chicago Tech Week attendance was way up from last year. "If you have an idea, Chicago is very supportive."
Goshi will show off its product at the Excelerate Labs' 2011 Demo Day at the House of Blues, but for now you can grab it for free at
iTunes
.