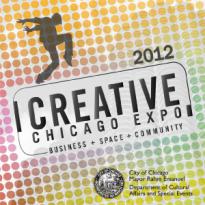 If you haven't heard of the Chicago Creative Expo, here's the deal. This year marks its ninth year in existence, and 2012 is special because it's swelling to a full days. Okay, but, if you haven't heard of it before this post, here's the deal: It's a long-running event presented by the city and the Department of Cultural Affairs and Special Events that "connects individuals and organizations working in all creative fields… with top local and national resources."
This year will cover topics like social media and crowd-funding to branding and intellectual property. (And other, more specific examples include how to manage big teams in rough economic times, which is sure to be jam-packed.) Among the heavy hitters slated to be on hand for the March 23 and 24 event are Kickstarter, Rock For Kids, The Awesome Foundation, and many many others. It'll be taking place at the Cultural Center at 78 E. Washington St.
Oh, and the best part? It's totally free and open to the public. For more information, hop on over to the event's official site.
David Wolinsky is a freelance writer and a lifelong Chicagoan. In addition to currently serving as an interviewer-writer for Adult Swim, he's also a columnist for EGM. He was the Chicago city editor for The Onion A.V. Club where he provided in-depth daily coverage of this city's bustling arts/entertainment scene for half a decade. When not playing video games for work he's thinking of dashing out to Chicago Diner, Pizano's, or Yummy Yummy. His first career aspirations were to be a game-show host.