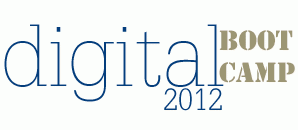 I've written briefly about this before, but at the outset of the almost year now I've been writing for Inc. Well, I had an epiphany that I, too, was an entrepreneur of sorts.
Any of you out there reading this who are also freelance writers or are thinking of joining the lucrative world of stringing sentences together for someone else might want to consider checking out this half-day April 20 event being held by the American Society of Business Publication Editors.
The Digital Boot Camp will "include four hours of hands-on training for writers, editors, directors and more."
SEO, ethics and social media will be touched on after coffee and bagels. It all takes place at Columbia College at 600 South Michigan Ave., and slated thus far to speak are Darcy Lewis (a Chicago board member of the organization) about finding work through Facebook (which really happens, I can vouch for this) and Jessica Zemler about how to set up a fan-gated promotion on your Facebook page. So, if you've been putting off signing up for Facebook, now might be the time to check it out so you can be armed with some good questions by next month.
Registration runs $75 if you're a member of the organization and $100 if you're not. Both prices go up by $25 if you register after March 31. Check it out over here and register if you want over here.
David Wolinsky is a freelance writer and a lifelong Chicagoan. In addition to currently serving as an interviewer-writer for Adult Swim, he's also a columnist for EGM. He was the Chicago city editor for The Onion A.V. Club where he provided in-depth daily coverage of this city's bustling arts/entertainment scene for half a decade. When not playing video games for work he's thinking of dashing out to Chicago Diner, Pizano's, or Yummy Yummy. His first career aspirations were to be a game-show host.