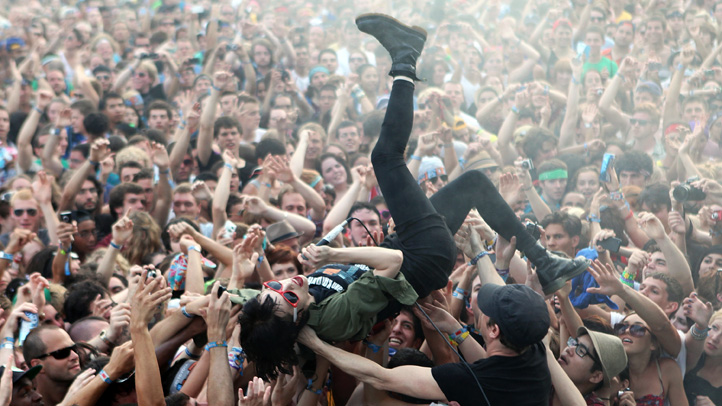 Music industry heavyweights and rabid fans alike descend on Chicago this weekend for one of the most anticipated music festivals of the summer, Lollapalooza.
Chicago area's transit agencies are setting guidelines and adding service for the event, which begins on Friday and runs through Sunday in Grant Park.
For a couple of weeks now, vehicle traffic has been restricted through the area for set-up, and although many do drive to the music festival and parking is available in one of four garages around Grant Park, public transportation is the preferred option for many fans.
Metra offers additional service for attendees of the concert festival beginning Friday. The agency is scheduling more trains on the BNSF, Rock Island and UP North Lines. On other lines -- UP Northwest, UP West, Metra Electric, Milwaukee North, and Milwaukee West --- riders will enjoy expanded seating capacity.
Bicycles will not be allowed on Metra trains Friday, Saturday or Sunday, and alcoholic beverages or glass containers won't be allowed after 7 p.m. Friday. No alcohol will be allowed for the remainder of the weekend.
CTA officials announced extra rail service in the city. The Blue, Brown, Green, Orange, Pink and Red Lines will operate until midnight Friday through Sunday. The Skokie Swift Yellow line will run until 1 a.m. throughout the weekend. For the entire system, officials say the goal is to have trains running every 5 to 8 minutes-or-so. The bus re-routes because of the Grant Park street closures will still require some extra travel time, however.
For those who want to use the CTA, but don't do so to commute regularly, the 3-Day Pass may be the way to go. It's good for unlimited rides, and is just $14. Here is a link to more about the CTA's train tracker service, which gives you 'real time' estimated arrival information.
Cyclists planning to ride to Grant Park can utilize the Active Transportation Alliance's valet service on the southeast corner of Monroe and Lake Shore Dr. It will be staffed by volunteers who are Chicago biking advocates. In addition, the City of Chicago provides free, secure bike parking at the McDonald's Cycle Center in Millennium Park.