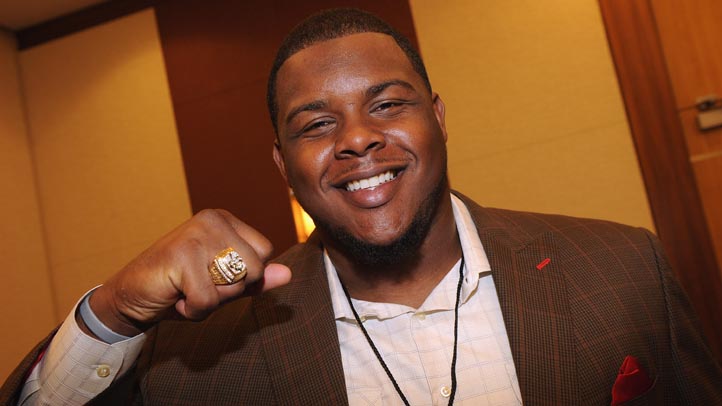 The Bears have several new players this year. As we get closer to training camp, Grizzly Detail will help you get to know the Bears. Today, we look at the man who is expected to make a big difference on the offensive line: Jermon Bushrod.
Who is he? Jermon Bushrod

Where did he go to school? Towson University in Baltimore.

Where did he play before Chicago? In New Orleans. While with the Saints, he made it to a Pro Bowl and protected Drew Brees for five seasons. In that time, Brees was sacked an average of 1.55 times per game. For comparison's sake, Jay Cutler was sacked 2.534 times per game in 2012.

What will he bring to the Bears? He's a left tackle who won't have to be taught how to play left tackle. He's been to the Pro Bowl in that position, and has the size and strength to hold off defenders on the edge. He also brings experience and durability to the position. He was a part of the Saints' Super Bowl-winning team in 2009, and led the league in snaps taken in 2011.

What are his downsides? Drew Brees is not the same kind of quarterback as Jay Cutler, so Bushrod will have to adjust in the way he protects the QB. Also, that experience and durability can take its toll, so Bushrod needs to be on guard against injury.

Who is he replacing? In short, J'Marcus Webb, but the entire line picture is more complicated than that. Bushrod will play at left tackle, where Webb played last year. Webb is still on the team and will compete for the right tackle starting spot. Gabe Carimi, who played at right tackle for much of last season, was traded away.

What number will he wear? 74, which was once worn by Jim Covert. Let's hope this means we'll get another Black and Blues poster. Don't act like you didn't have hanging in your parents' rec room.

Anything else to know about him? He's 6-foot-5, and played water polo in high school. Also, his son is adorable.
Copyright FREEL - NBC Local Media