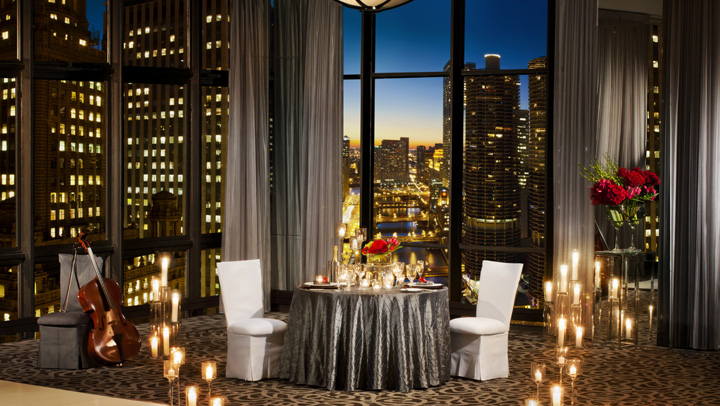 Fellas, as soon as your new fiancee starts showing off her ring to her girlfriends, that inevitable question is bound to come up -- how did he propose?

In fact, long after you're married, inquiring minds will want to know, so the pressure is on to make it memorable.

Hotel 71 is offering the opportunity to create a doozy of a story by offering a "Romance with a View Package" this Valentine's Day, the opportunity to snag private access to the 39th Floor Penthouse Ballroom to pop the question. Or do whatever else you have on your mind.

It's the same room used for Batman's bedroom in "The Dark Night" film.

The package includes private access to the entire ballroom with views of the Chicago River and the city skyline, a 6-course meal, a private server for the evening, upgraded linen and chairs, specialty flatware, custom centerpieces, and atmospheric lighting.

Upgrades include a private string musician(s), a vocalist and an overnight stay at the hotel. Packages start at $1,500.

If that's too rich for your blood, consider Visions Wedding & Event Boutique's offer. The suburban wedding planning firm specializes in helping men create that special proposal, and is giving away $1,000 proposal packages this Valentine's Day that include flowers, photography, spa services, a limo, an overnight stay at the Sax Hotel and of course, some guidance on how to pop the question.

After all, we can't all be as naturally smooth as Bruce Wayne.