Vandals spray-painted graffiti and put a white hood on a statue of George Washington in Chicago's Washington Park neighborhood Sunday morning.
Photos from the scene show the statue, which is located in the 5500 block of South Martin Luther King Jr. Drive, with spray-painted messages scrawled on its base. Earlier in the day, a white hood and gown, likely intended as a representation of the Ku Klux Klan, had also been seen on the monument:
The vandals spray-painted the words "slave owner" and "God Bless Amerikkka" on the base of the statue: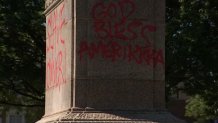 The actions come amid a series of incidents involving statues throughout the U.S. Statues of Christopher Columbus have been targeted in many instances, as have monuments depicting Confederate generals, including Robert E. Lee.
On Saturday, a statue depicting Columbus was vandalized at Chicago's Museum Campus, with the acronym "BLM" spray-painted on the statue's base.