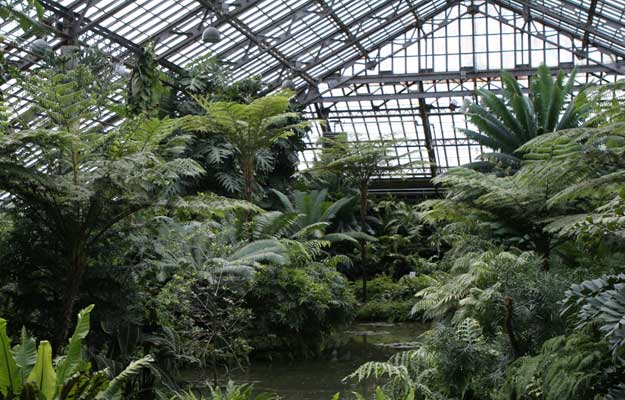 While storms are usually a good thing for plants during the hot summer days, the more exotic and tropical variety found in Garfield Park Conservatory remain in danger from the damage that late June's hail storm inflicted on the building's structure and ceiling.

High-powered vacuum cleaners have been in high use at the West Side conservatory, as shards of glass remain in many of the ferns, on top of lichen-covered rocks and in the dirt that anchors the foliage for the plants in the century-old building, reports the Chicago Tribune.

The hail storm damaged more than half of the glass ceilings that cover the building, and the cleanup and rebuilding of Garfield Park Conservatory's Fern Room, Show House, Desert House and 10 of its production houses is in its early going.

Many of the plants lack humidity, and some of the Fern Room's lichens, ferns and cycads (some more than 250 years old) are suffering from the lack of humidity that the summer weather carries into the exposed greenhouse.

The Chicago Park District hopes to cover the exposed rooms and at least four of the conservatory's production houses with temporary polycarbonate sheets by the end of October, as officials determine how to permanently rebuild the ceilings and lighting structures.
Once the winter weather hits Chicago, many of the tropical plants found in the conservatory will need protection from the cold or risk a withering death.

Workers have managed to clear the debris of sharp glass that dangled from the roof and remove the shards of glass found in the conservatory's Show House to keep the conservatory safe and operational. None of the scheduled weddings have been canceled, and only one event, October's Creatures of the Night, has been removed from the calendar due to the misfortunes brought by the hail storms.

The entire cleanup of the facility will cost an estimated total of $2 million, according to the Chicago Tribune.

Still, for the time being, the conservatory needs to find places for thousands of displaced plants that were removed from damaged production houses and are now kept outside. Some of those plants will be moved to the Lincoln Park Conservatory for their well-being.

July 1, 2011: Hail Shatters Garfield Park Conservatory