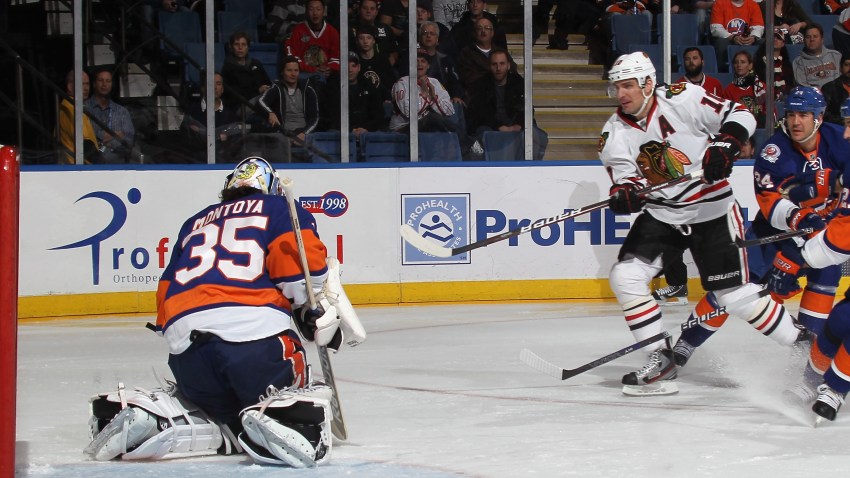 The month of October is full of non-conference matchups for the Chicago Blackhawks ( nine out of 13 games this month are against Eastern Conference foes), and Friday night will be no exception as the Hawks take on the New York Islanders at the United Center.
The Islanders may have been more known in recent years for their decaying arena and their equally putrid play, but over the past few seasons, the team has really been coming into its own. Buoyed by young stars like John Tavares and with a strong supporting cast that includes guys like Kyle Okposo, Matt Moulson, and Evgeni Nabakov, the Islanders have gone from being doormats to playoff contenders in a short period of time.
The Isles have begun this season like they want to continue their success from a year ago, beating the New Jersey Devils on the road and knocking off the Phoenix Coyotes by a 6-1 margin on Long Island. They did drop a shootout to the equally impressive Columbus Blue Jackets, but for the most part, the Islanders seem like they're going to be a team to watch out for this season.
Key to the Game: Shoot Early, Shoot Often
The Blackhawks this season have been doing a good job of getting a ton of quality scoring opportunities, but they have been having some difficulty in converting them, and that's largely to do with the fact that both Ben Bishop of the Tampa Bay Lightning and Jaroslav Halak of the St. Louis Blues had excellent games against the Hawks.
The Hawks will catch a bit of a break in this regard on Friday night, because Kevin Poulin, the Isles' 23 year old back-up goaltender, will be making the start for New York in place of Nabakov. In only 21 career games played, Poulin has a GAA of 2.76 and a save percentage of .912. Both of those numbers are respectable, but not necessarily world-beater type stats, so it is possible for the Hawks to finally break out after a couple games of being stymied by excellent goaltending.
In order to take advantage of that, however, the Hawks will have to continue to take a ton of shots.
Through three games, the Hawks are averaging 33.7 shots per contest, which is tied for fourth in the NHL (the Sharks are leading that category with an incredible 40.5 shots per game in their first four contests). Meanwhile, the Islanders are dead smack in the middle of the league in shots allowed, with 30.7 shots against per game ranking them 15th in the NHL.
In order for the Hawks to be successful, they need to ensure that they are keeping up the tempo against a young goaltender making his first start of the season, and if they do, then the goals SHOULD (note that qualifier) come.
Islander to Watch: Michael Grabner
Guys like Tavares might get a majority of the headlines for the Isles, but Grabner is making a case to be a much bigger part of the narrative for that team.
In three games this season, Grabner has racked up two goals and four assists, and he's doing that while playing less than 15 minutes per game. Contrast that with the 16:12 per contest that Bryan Bickell is getting (he has only one assist in three games despite playing on a line with Patrick Kane and Jonathan Toews), and you can see what makes Grabner's early season production so remarkable.
So yes, the Hawks will have to keep an eye on the bigger name guys like Tavares, but they are going to have to be defensively sound throughout their lineup in order to stop the hot-starting Grabner on Friday night.
Blackhawk to Watch: Marcus Kruger
The Hawks' penalty killing unit is struggling mightily to start the season, allowing goals on 56% of the power play chances it's had to face this year. Kruger is the top line center on that PK unit, so at least some of the blame for the struggles in that area has to fall on him.
With that in mind, it seems that Joel Quenneville is going to change up his role a bit. Rather than having him center the fourth line, Quenneville bumped Kruger up to the third line left wing spot at the morning skate on Friday, and shifted Brandon Saad to the right wing spot on the line. In Kruger's place at center on the fourth line is Joakim Nordstrom, with Ben Smith taking over at the wing spot along with Brandon Bollig.
It will be interesting to see if Kruger's production can pick up a little bit playing with the explosive Saad, who has been having a great start to the year, and it will also be worth watching to see how well Kruger does not having to worry about his defensive responsibilities as much when he shifts out to the wing. Perhaps the combination of those two factors could be the jump start that Kruger's confidence needs, and that could very well translate into more effective work on the penalty kill for the Swedish forward.