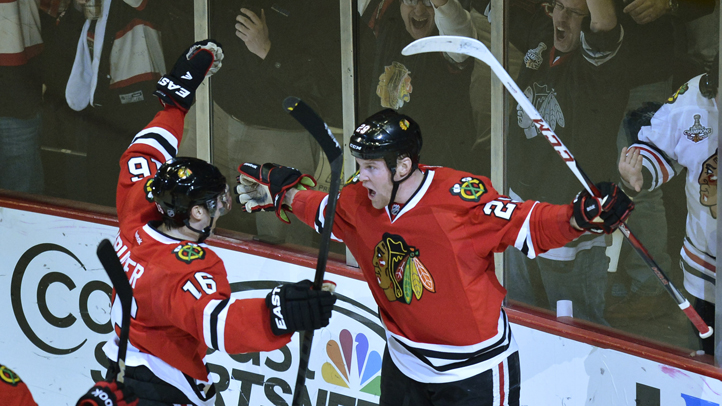 After an excellent performance against the Winnipeg Jets on Saturday afternoon, the Chicago Blackhawks will look to extend their three game winning streak when they tangle with the Calgary Flames Sunday night at the United Center.
The Hawks, who have scored a remarkable 16 goals in their past three games, have been getting offensive contributions from everywhere in their lineup, and it was their fourth line that shone exceptionally bright Saturday when the Hawks grounded the Winnipeg Jets 5-1. Brandon Bollig had his first career multi-point game, picking up a goal and an assist in the contest, and Marcus Kruger had two assists of his own in the winning effort.
The play of Corey Crawford was once again outstanding, as he made 26 saves and several big stops on rushes by the Jets to keep the Hawks in the game during a back-and-forth first period.
As for the Flames, they had gotten off to a very nice start, picking up points in each of their first five games. As of late, however, they have been struggling. They lost six of their last eight games, including three against teams in their own Pacific Division. Their penalty killing unit has been quite good going a perfect 12-for-12 in their last four games (although the Flames are 1-3 in those games).
Key to the Game: Test Berra Early
The Flames are 29th in the league in goals against per game this season, giving up 3.5 goals per contest. To make matters worse for their defense, the team will have Reto Berra make his NHL debut against a Blackhawks offense that has been clicking on all cylinders.
Even still, there is one thing that the Flames are good at, and that's in limiting shots on goal. After giving up 34 shots to the Dallas Stars, the Flames have limited teams to 29, 22, and 22 shots in their last three games. Normally, that would be good enough to win, but with lackluster goaltending from Karri Ramo and Joey MacDonald (who was placed on waivers by the Flames after giving up four goals in just 22 shots to the Detroit Red Wings Friday), the defense hasn't done the trick.
To that effect, the Blackhawks are going to need to do a good job of getting tons of pressure on net early in the game, with traffic crashing into the crease and plenty of pucks finding their way to Berra.
They have been doing that really well in their past few games, so as long as they can continue that strategy, they could welcome the new goalie to the NHL rudely.
Flame to Watch: Reto Berra
The Hawks will have a couple of good offensive weapons to keep an eye on, like Jiri Hudler and Dennis Wideman, but it is the rookie goaltender who will be the most crucial piece to the Flames' effort on Sunday. If he can show some resiliency in the early going, then it could inspire his teammates to play hard in front of him, and they could be on their way to another strong defensive outing.
Blackhawk to Watch: Bryan Bickell
On Monday, the Blackhawks got a tremendous performance from their second line. On Tuesday, it was the first line that led the way, with Jonathan Toews picking up a hat trick. On Saturday afternoon, the fourth line came to the forefront, with Bollig, Kruger, and Ben Smith combining for five points.
With that in mind, it would seem logical for the third line to step up in a big way Sunday, and Bickell is the guy we'll go with. Sure, Jeremy Morin and Andrew Shaw have been doing some good work lately, but Bickell is the guy who has benefitted the most from the new third line arrangement. He was held off the scoresheet on Saturday afternoon, so he'll likely be looking to get back into the action against the Flames.