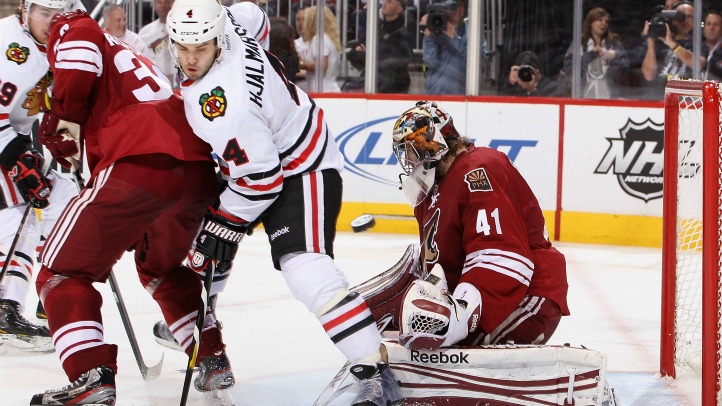 Despite not being a playoff team last season, the Phoenix Coyotes will come into the United Center on Thursday night as one of the hotter teams in the NHL, winning eight of their last 10 games and matching the Chicago Blackhawks in the standings with 28 points.
During their recent run of success, the Coyotes have not only been able to persevere without key players like Radim Vrbata and Martin Hanzal, but they also have gained ground by beating some really good teams, including getting road wins against the San Jose Sharks and St. Louis Blues.
The goaltending they've gotten from Mike Smith has been solid, and they have been scoring more than any Coyotes team in recent memory, currently sitting at sixth in the NHL by scoring 3.1 goals per game.
What makes this Coyotes team different than ones in the recent past however have been their defensive shortcomings. The Coyotes are allowing 35 shots per game so far this season, which is the fourth worst mark in the NHL. They have also given up 58 goals, which is more than any other team in the Western Conference aside from the Edmonton Oilers and Calgary Flames.
Their penalty killing unit has also been a source of consternation for head coach Dave Tippett and company, surrendering seven power play goals in the team's last seven games.
As for the Blackhawks, Thursday's game kicks off a stretch of 10 games in 17 days that will culminate with their seven game circus trip to wrap up the month of November. During this section of the season, the Hawks will battle several key foes, including the San Jose Sharks, Colorado Avalanche, and these Coyotes again on November 30th.
Needless to say, this game will be a crucial test for both clubs, as the Hawks will face a team that has beaten them six consecutive times at the UC, and the Coyotes will face an offense that has scored 32 times in its past seven games.
Key to the Game: Beware the Transition Game
The Hawks are a team that thrives on offensive contributions from their blue liners, but that kind of free-flowing game is going to play right into the Coyotes' hands, thanks to the efforts of their two star defensemen.
Oliver Ekman-Larsson, a player that many considered a dark horse for the Norris Trophy this season, has racked up four goals and 11 assists for the Coyotes so far this season to lead them in scoring. Not to be outdone, potential Team USA defenseman Keith Yandle has had a great start of his own, with a goal and 13 assists so far.
Those players both play with a ton of speed, so it's going to be imperative to the Hawks that they make sure to stay disciplined defensively against the Coyotes. Allowing Yandle and OEL to get space on the ice is a recipe for disaster, and if the Hawks begin to pinch in defensemen and don't drop forwards back in defensive coverage, the play could go the other way in an instant, leading to odd-man rushes and quality scoring chances for the visitors.
Coyote to Watch: Martin Hanzal
Hanzal, who missed the Coyotes' overtime victory over the Blues Tuesday with an illness, will return to the Phoenix lineup for Thursday's showdown with the Hawks, and that is great news for a Coyotes offense that is already missing several key components, including Vrbata and Derek Morris.
During the three games before he went down with the ailment, Hanzal had 10 shots on goal and picked up an assist in each game, including two on the power play. Along with Shane Doan, Hanzal has been a crucial part of the success of a team that is currently ranked 10th on the year on the power play, so getting him back against one of the league's worst penalty killing units will provide the Coyotes with a good spark.
Blackhawk to Watch: Brandon Pirri
After getting off to a strong start for the Hawks, Pirri has cooled off considerably over the past few weeks, with only eight shots on goal during the Hawks' recent seven game offensive outburst. He did finally get off his goal scoring skid against the Winnipeg Jets last week, but as he has continued to be largely ineffective on the ice, his ice time has gone down considerably.
Pirri is going to have to take advantage of the Coyotes' more free-wheeling approach to defense in this game, because if he doesn't snap out of his funk soon, then the Hawks might have to explore other options at second line center. The injury to Michal Hanzdus may have bought Pirri more time, but Joel Quenneville has been notoriously impatient with Pirri in his NHL career, and he likely won't hesitate to pull the trigger on a change.