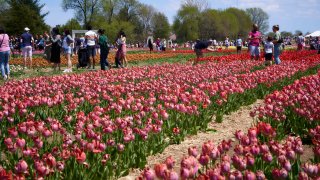 There's one final day to tiptoe through 600,000 bulbs of 30 different varieties at this this year's Richardson Tulip Festival.
The festival, in Spring Grove, will close Friday at 6:30 pm.
The weather determines the dates of the Richardson Tulip Festival each year, which features 500,000 tulips in colorful blocks along with 100,000 tulips in a mixed colors area.
One free tulip is offered for each guest who purchases a ticket.
In addition to tulips, the festival offers local food trucks, snacks, wine, music and more.
Admission for the final day of the festival is $6 per person, and the grounds open at 11 a.m. Leashed dogs are welcome.