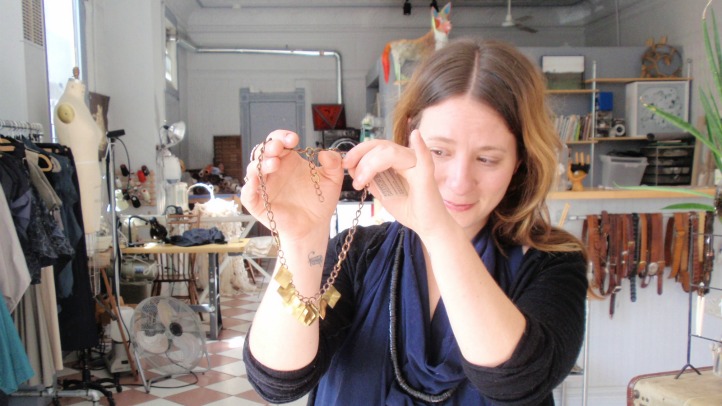 It's a story that is becoming more common for small, independent boutiques around Chicago: clothing designers or artists open a new, unique shop with big hopes and dreams, only to find themselves shutting down a few years later because they just can't afford it.
Anne Novotny, owner and creator of Workshop and Frei Designs, is in the same situation. But the spunky, Pilsen boutique owner isn't giving up her dream of designing and creating quality clothes. Novotny is taking her brick and mortar business to the virtual world.
"When God closes one door, he opens a website," said Novotny.
Novotny started selling her own collections to wholesale shops and boutiques in 2006. She remembers standing in New York Market week in 2008 and watching Lehman Brother's collapse. After that, working in the wholesale clothing market became very difficult, so she took matters into her own hands and decided to open Workshop in Pilsen in 2009.
At Workshop, Novotny sells her own collections as well as clothing and accessories from several other local artists and vintage items. She uses ethically produced raw materials, fast renewing resources and non-toxic dying techniques.
It all sounds fancy enough, but Novotny's main problem is her competition. Big Box stores like Urban Outfitters and Anthropologie (she calls "Urban-Fall-Apart" and "Anthro-Fall-Apart") have taken the idea of the independent boutique and mass-produced it using cheap materials and cheap labor, Novotny said. She believes the clothing industry relies on trends and impermanence.

"They want you to buy things, get sick of them, throw them away and buy more," Novotny said.
The trend of shopping online has taken off, and Novotny says customers are becoming less interested in a boutique experience. Novotny has decided to close up physical shop but move online where a wider audience can be reached and customers can conveniently shop.
"I think the challenge will be bringing the momentum of the shop and getting customers to give it a chance," Novotny said.
Novotny says you can do much more with online shopping. To keep customers interested, Novotny said it is vital to designed a clean, visually stimulating website. To her, the website needs to have high quality photographs of the clothing.

"Being able to translate the feeling and the esthetic to the customer is important," Novotny said.
Novotny also believes telling the story behind each collection or artist is another way to engage the customer and make them feel connected to the shop itself.
However, Novotny still finds the idea of shopping online and not being able to touch the clothing strange and she's sure some of her customers think the same. To offset that, she says she will still feature part of her collections in shopping events and markets around the city. She also dabbles in costume work and bridal pieces. "I'm interested in reaching customers in a lot of different ways," Novotny said.
Novotny will be able to do all this and not have to pay overhead for a shop she says is bleeding money.
Novotny says that even if something doesn't work, it's not about being a failure, but knowing when to close one chapter of life and open a new one. Also, being flexible and open to new ventures in this economy is essential.
"I don't want to beat a dead horse, I'd rather get out and give it a proper burial and move on," she said.