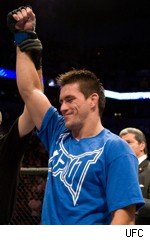 One of the biggest decisions that the Chicago Bears will face this offseason will be whether or not quarterback Jay Cutler will be back under center, and if head coach John Fox's Wednesday morning press conference is any indication, that decision has not been made yet.
Speaking at the NFL Scouting Combine in Indianapolis, Fox refused to commit to Cutler being the guy when the season kicks off, instead playing things close to the vest.
"We're not up against a deadline," he told the media. "My experience has always been to be still, gather the information and then in turn use it to make better decisions. So we're in that process. And we'll keep you posted."
Questions about Cutler have only intensified on Wednesday, as Fox confirmed that the team met with former back-up quarterback (and seven-game starter) Josh McCown on Wednesday morning. McCown was released by the Tampa Bay Buccaneers after just one season of his two-year contract that he signed with the team in 2014, and after contract negotiations fell apart with the Buffalo Bills, he's been talking to other teams about a potential role.
"Obviously there's interest. Otherwise we wouldn't have met with him," Fox said about McCown. "(He's) the right kind of guy that you want on your football team."