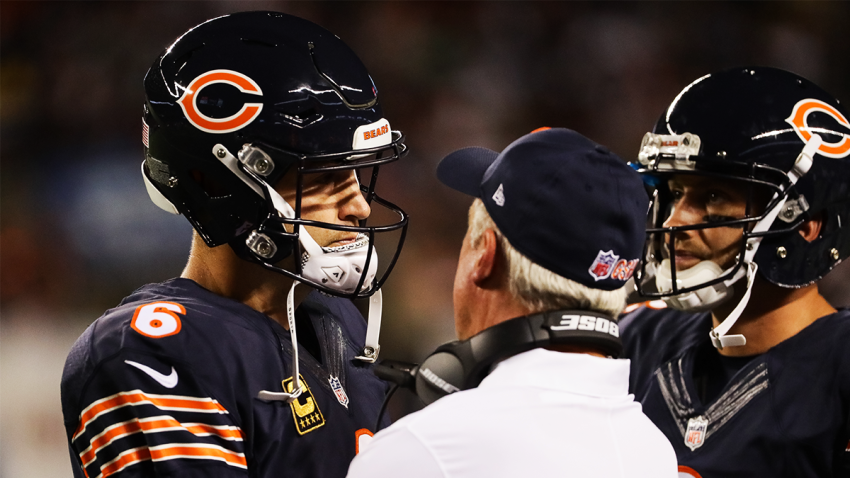 Chicago Bears quarterback Jay Cutler missed Sunday's loss to the Dallas Cowboys due to a thumb injury, but even when he's healthy again, there's at least some reason to question whether or not he will return to the starter's role.
In his press conference on Monday afternoon at Halas Hall, Bears head coach John Fox declined to say whether or not Cutler would be the starting quarterback when his thumb heals, and said that "I don't think there are any givens" when asked about the situation by reporters.
Hoyer had a solid game for the Bears on Sunday night, throwing for 317 yards and two touchdowns in the Bears' loss to the Dallas Cowboys. He also wasn't sacked in the game and although he did fumble late in the game, he was able to avoid pressure and get the team's offense churning late in the game.
As for Cutler, he has started two games for the Bears this season, throwing for 373 yards and one touchdown while throwing two interceptions in losses to the Houston Texans and Philadelphia Eagles.
Fox has made playing coy with injuries and depth charts his hallmark since he came to the Bears, and this instance may be no exception. Fox insisted throughout last week that Cutler was day-to-day with the thumb injury, and refused to rule him out until 90 minutes before Sunday's game despite the fact that the team signed Matt Barkley to the 53-man roster last week.
Cutler has only been benched once before for a game when healthy, as former head coach Marc Trestman opted to start Jimmy Clausen in a game late in the 2014 season.