Alleged school bullying has prompted a fourth grader to sue another fourth grader in northwest suburban Mount Prospect.

Contending he has been the victim of bullying which spanned his entire third grade year, Matthew and Deveri Del Core filed the suit Tuesday on behalf of their son Joaquin, naming a classmate identified only as "C.A.", along with the boy's parents, the school district, and Jeffrey Brusso, principal of Robert Frost Elementary.

Within hours of filing the complaint in Cook County Circuit Court, Ms. Del Core said she was fired from her job in the Robert Frost Elementary cafeteria. A termination letter from the school's cafeteria contractor, said she was being fired "at the request of the client," because actions she had taken "have been detrimental to the physical and mental well-being of students and staff."
In the lawsuit, Joaquin alleged he had been the victim of almost weekly attacks, ranging from hitting, punching, and kicking, to more violent threats.

"There was everything from him choking my son and threatening to kill him, said he was going to go home and get a knife and come back and kill him," Deveri Del Core said. "My son would wake up at night screaming and crying, terrified, and did not want to go to school."

Joaquin Del Core's parents said they filed repeated police reports and met with the school, to no avail. In one of those reports, an investigating officer notes that the alleged assailant's parent said he had "anger issues".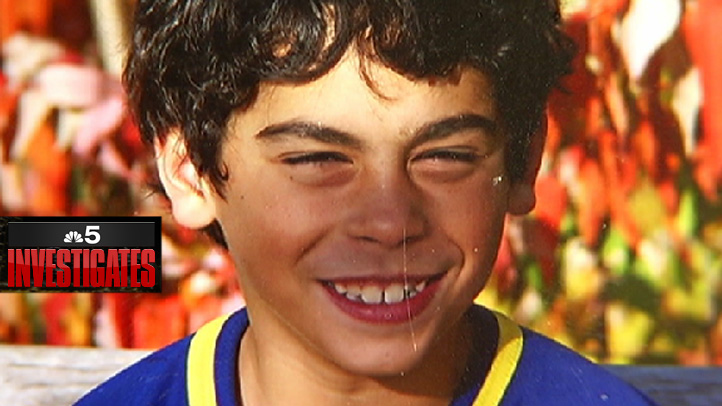 The school said they were taking action and assured us it wouldn't happen again, and it would just keep happening," Joaquin's father said. "(They would say) 'Yes we'll handle it, rest assured…' and then it would happen again a week later!"

The family's attorney, Joel Handler, said he was seeking monetary damages from all of the named defendants, including the now-fourth-grader who allegedly perpetrated the attacks.

"He has committed multiple assaults, multiple batteries, on my client," Handler said. "Since the school's not going to address it, and the parent presumably are not going to address it, then we are going to have to address it."

Handler said if he is successful in recovering monetary damages from the young defendant, he would go so far as to garnish any of the boy's future earnings.

"That (potential) judgment is good for 20 years," he said. As long as we know where he is, we would be enforcing the judgment against him."

A spokesman for the school declined comment on the woman's firing. But in a statement, the district superintendent Kate Hyland defended the school's policies.

"As a district, and at each of our schools, we value the safety and security of each and every one of our students and staff members, and take bullying prevention very seriously," the statement said. "We work diligently to provide a healthy, productive environment for all our students to learn and grow."

Handler said late Tuesday he would amend the complaint, to include a charge of retaliatory discharge against the school, for firing the boy's mother. For their part, the parents said they hoped the lawsuit sends a message.

"Kids, all kids, need to be in a safe and healthy environment to learn in, because learning fuels the rest of your life," Matthew Del Core said. His wife suggested that the suit might actually help the alleged assailant.

"This isn't just about our son any more," she said. "This is about the child that's been bullying our son, that he gets the help that he needs, and that the school provides it for him."