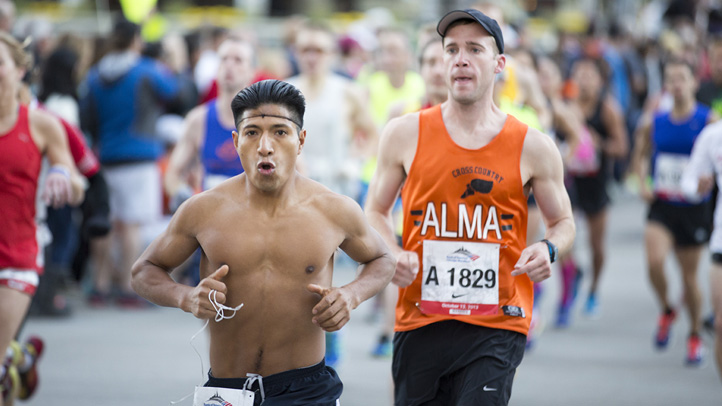 Most first time marathoners have done a lot of research about what to expect on race day, so you probably already know about putting band-aids on your nipples, pacing strategies, nutrition, etc.

That being said, here's four common sense tips that you may not have yet come across.
Just finish! If this is your first race, don't get caught up in the details. Just focus on finishing. Completing a marathon is a huge achievement and you should be very proud of yourself when you finish. Have an idea of your pace, but don't pressure yourself to maintain a certain pace. Save that for future marathons.
Don't introduce anything new. This is common sense in many ways. For example, don't try out new shoes or socks on race day. But, also know what beverages and energy sources will be available for you during the race. Do they provide you with Gatorade, but you've been using Powerade on your runs? Will they be providing you with Gu but you have been using Cliff? The small details make the big details. Train like it is race day.
Know the difference between pain and an injury. It is inevitable that you will feel pain and discomfort while running your first marathon. It is important to know the difference between pain and an injury. If it is just pain, push on and continue. An injury would require you to stop. You will know the difference, tune in to what your body is telling you.
Post-race care. I love walking around downtown Chicago the afternoon of the marathon. You can tell who ran the marathon, and it's not only because they are wearing a medal. It's because they are limping, moving very slow, and in a decent amount of pain. The recovery process after a marathon is just as important as the training that you put in before the marathon.
Dr. Bourdage and Dr. Allar are chiropractors who focus on fitness. Both have competed in and completed athletic events including powerlifting, Olympic weightlifting, obstacle races, distance races, and multiple day bike races. Dr. Bourdage is the owner and clinic director of Bourdage Chiropractic and Wellness. For the last 8 years he has enjoyed helping people to stay injury free and reach their optimal levels of performance through a better functioning body.Dr. Allar, originally from Detroit, Michigan, is also a certified personal trainer with emphasis on Olympic Weightlifting, also enjoys boxing and Brazilian jujitsu in addition to frequent workouts. She has ran several local Chicago races, as well as a few during her busy education years at Palmer College in Iowa (including the BIX), Her most recent being a fun Glow Run through downtown Chicago.