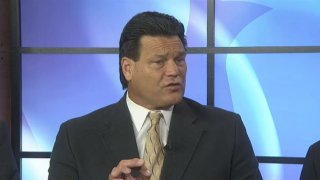 Former longtime Chicago Bears defensive lineman and Pro Football Hall of Fame member Dan Hampton was arrested for operating a vehicle while intoxicated earlier this month in northwest Indiana, according to authorities.
Police in the town of Winfield, where Hampton resides, arrested the retired NFL player on a preliminary OWI charge the night of Nov. 20, according to the Lake County Sheriff's Department.
He was booked into the Lake County Jail at 11:59 p.m. and released at 7:45 a.m. the following morning.
Hampton, who played for the Bears from 1979 to 1990, hosts a Bears postgame show on WGN-AM.
He was arrested for drunk driving in Arkansas in January 2002, the same year he was elected to the Pro Football Hall of Fame, according to CNN. Hampton was sentenced to a week in jail.
He was also previously arrested for driving while intoxicated in 1996 and 1997.
Hampton's biography lists his age as 64, however the Lake County Sheriff's Office stated Hampton was 67 years old.