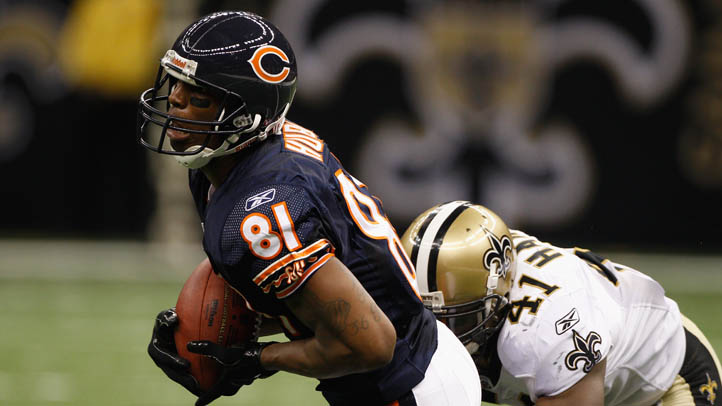 Former NFL receiver Sam Hurd pleaded not guilty Wednesday to a new indictment in the drug case that derailed his career.

Hurd entered the plea in federal court in Dallas. He faces new charges of possessing marijuana and cocaine while he was out on bond from his previous arrest.

The former Chicago Bear and Dallas Cowboy was arrested last December, accused of trying to have a cousin arrange a deal to buy 5 kilograms of cocaine and 200 pounds of marijuana. Authorities alleged he planned on setting up a large-scale distribution network in the Chicago area.

Hurd, 27, was cut from the Bears shortly after his arrest and is being held in federal prison near Dallas.

His cousin, Jesse Tyrone Chavful, and an alleged co-conspirator, Toby Lujan, have signed guilty plea agreements.

A guilty plea signed by Hurd showed up in court documents from a previous indictment last month, but attorney Jay Ethington said it was filed in error. The U.S. attorney's office has not withdrawn the plea documents, and Ethington said he didn't know if there were new discussions toward a guilty plea.

Hurd was living in Texas earlier this summer when he fell back into trouble. Authorities say he failed two drug tests and also tried to arrange another deal for cocaine and marijuana through Chavful. The cousin, in documents signed Monday as part of his plea agreement, said Hurd contacted him at his T-shirt shop in San Antonio and asked to "get him cocaine and marijuana."

According to the documents, Chavful said he set up a deal to purchase the cocaine and marijuana, but was arrested by an undercover officer.

Chavful's attorney, Laura Harper, denied that Chavful was pleading guilty in a bid of leniency at sentencing.

"Rather, he is truthfully admitting what he did because he believes that it is the right thing to do," she said.

Ethington said Tuesday that Chavful is lying.

"It's Chavful's attempt to shift blame and save himself from a long prison sentence," he said.

Hurd, a San Antonio native, played at Northern Illinois University and spent five seasons with the Dallas Cowboys before signing with the Bears in 2011. The deal was reportedly worth up to $5.15 million, including a $1.35 million signing bonus and base pay this season of $685,000.
Toby Lujan

Associated Press / NBC Chicago