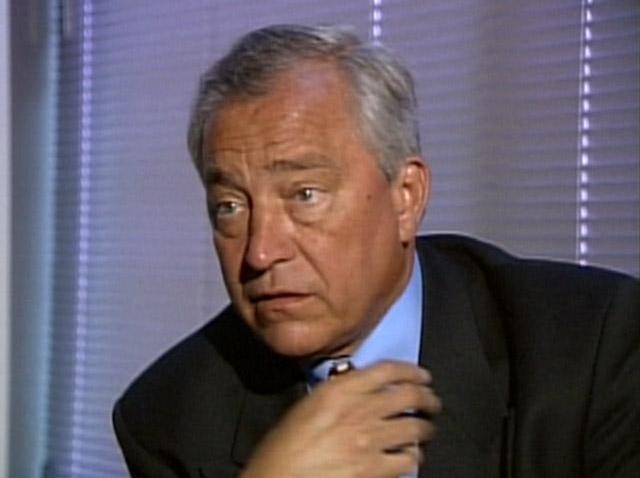 Former Chicago alderman Edward R. Vrdolyak has been indicted on charges of impeding the IRS and tax evasion.
The indictment stems from an investigation into a state lawsuit against tobacco companies 20 years ago and involves claims income taxes were not paid on fees collected through a settlement agreement.
The newly unsealed documents allege Vrdolyak cut a secret deal to obtain millions of dollars in fees from the settlement for which he did no actual legal work, and that he helped a co-defendant evade hundreds of thousands of dollars in taxes.
The allegations first surfaced last year, when Vrdolyak appeared in a federal indictment that accused Chicago attorney Daniel Soso of evading roughly $800,000 in income taxes. Although the former alderman wasn't named in that case, his identity was later revealed in court to be the indictment's unnamed "Individual A."
Vrdolyak's new indictment also includes Soso. It was filed earlier this month and unsealed Tuesday.
The former alderman's longtime attorney Michael Monico called the case "confusing, and disappointing."
"He's had the money set aside in escrow," Monico said. "We've been waiting for the government to send us the appropriate documents."
Monico said the payments Vrdolyak negotiated were for the work he had done for a Washington state law firm, in obtaining a piece of Illinois' multi-billion dollar case against tobacco companies in 1998.
"In Illinois you're entitled to pay referral fees, and they don't accuse us of doing anything wrong with that," Monico said. "The state got a good deal and the citizens got a good deal, because the state received a lot of money as a result of the lawyers who helped."
Vrdolyak has courted controversy in Chicago for decades. First as a wheeling-dealing alderman, earning the "Fast Eddie" nickname. When Jane Byrne ran for Mayor in 1979, she branded Vrdolyak as the leader of a "cabal of evil men" in the City Council. But Byrne eventually embraced Vrdolyak for his ability to cut deals.
Later, when Harold Washington won election as Chicago's first black mayor, Vrdolyak eagerly accepted the role of chief gadfly, leader of the white majority "Vrdolyak 29", which led to the infamous "Council Wars" of Washington's first term.
Unsuccessful in two runs for mayor himself, Vrdolyak switched to the Republican party, donned the mantle of talk show host at WLS radio, and reaped millions as legal advisor to former Cicero Town President Betty Loren Maltese.
Then in 2007, Vrdolyak's luck ran out as he was indicted and pled guilty in connection with a real estate kickback scheme involving a Gold Coast medical school. In response to floods of letters attesting to his good deeds, Judge Milton Shadur sentenced the former alderman to probation. But the government appealed the sentence, and a different judge ordered Vrdolyak to serve 10 months in prison.
Vrdolyak will be 79 years old next month. On the latest charges, he is expected to appear in court next Tuesday.