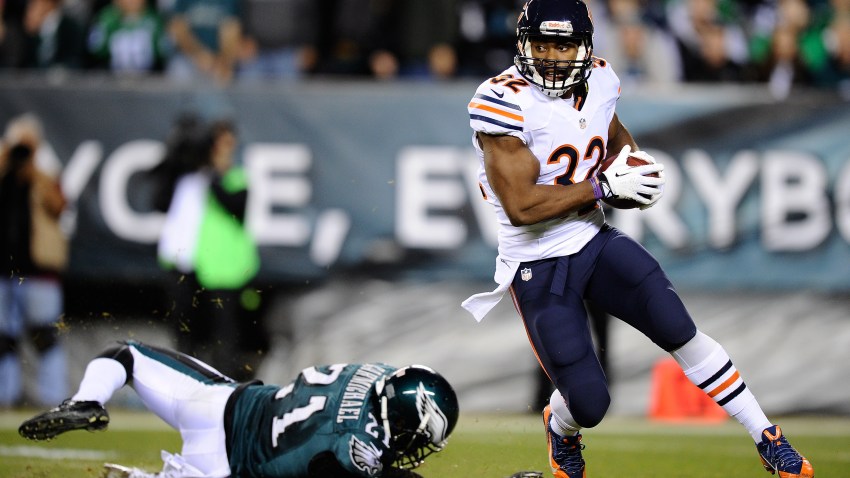 After a season that saw Michael Bush struggle to gain any traction as a back-up to Matt Forte, the Chicago Bears are giving extended looks to two backs this training camp, with rookie Ka'Deem Carey and returning veteran Michael Ford both vying for the job.
"It's very exciting, because you never know what exactly you're going to get," Ford said after Monday's practice. You can have a run play or a throw on every down, and even as a running back I can go line up at receiver. He (head coach Marc Trestman) throws everything at you, and it's tough for defenses to adjust to it."
Ford has been getting the lion's share of the work at the number two slot early in camp, with Carey taking a bit of a backseat as the Bears try to ease him into their system. Even though he's taking carries with the third team for the most part, Carey is still insistent that he is on board with the plan the team has for him.
"They just want me to play my role," he said. "I'll find out what exactly that role is as we get deeper into camp, but I feel good. As long as I'm learning and making progress around here I feel good about what I'm doing."
Both players have not only been working closely with Trestman and running backs coach Skip Peete, but they've also been working with Forte in some of the finer points of the position.
"He's taken me under his wing for sure," Carey said. "He's correcting me on my reads and on my footwork, and teaching me how to treat my body. He's definitely a role model for me, and he's helping me become a better back."
Ford also has worked with Forte, and one of the biggest lessons he's learned from the veteran back is that every day provides new opportunities to improve his game.
"There have been ups and downs, but the great thing about these practices is that every one of them is a chance to get better," he said. "Whether you're going with the coaches or Matt Forte, you get to learn each and every day."
The team will have a mandatory day off from practice on Tuesday before heading back to the practice field on Wednesday. The first preseason game, which will likely see Carey and Ford get plenty of touches, will take place on August 8 against the Philadelphia Eagles at Soldier Field.