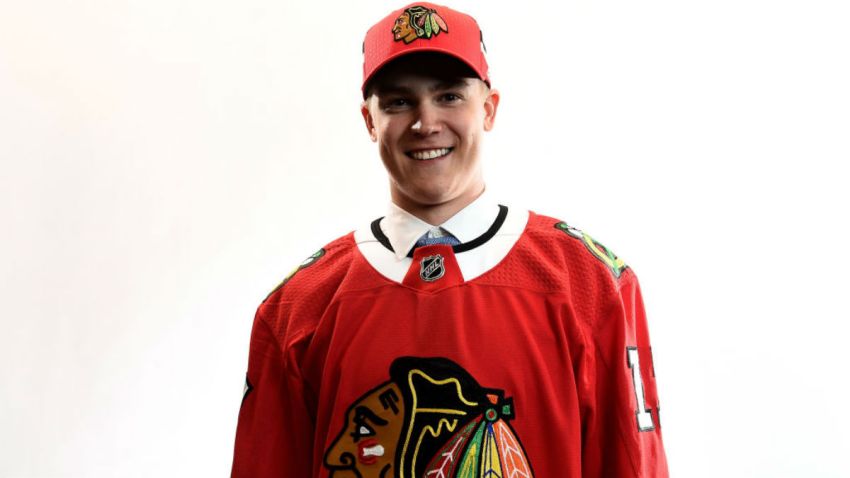 The Chicago Blackhawks wrapped up a busy NHL Draft weekend on Saturday as they finished selecting the nine new players that will join their stable of prospects in the coming years.
The Blackhawks didn't make any big splashes once the draft actually began, but they created some fireworks beforehand as they traded away Niklas Hjalmarsson and Artemi Panarin in separate transactions.
So what did the Blackhawks do right, and what did they do wrong? To answer those questions, here are our Five Thoughts on how the NHL Draft shook out for the Blackhawks.
Biggest Success: Adding Young, Right-Handed Blue Liners
General Manager Stan Bowman went into the NHL Draft looking to add young, athletic players on his blue line, and he killed two birds with one stone as he also addressed another glaring need: right-handed defensemen.
He did that both in the Hjalmarsson trade, which netted the Blackhawks Connor Murphy, and he also did it in the draft, as he selected Henri Jokiharju and Ian Mitchell in the first two rounds of the draft.
Adding players that can pass the puck on the blue line, and that can also skate effectively through all three zones, was a critical success for the Blackhawks in this draft, and Bowman did a quality job of addressing a significant need.
Biggest Disappointment: Not Adding More Goaltending Depth
The Blackhawks likely acquired a player that will compete for their back-up goaltending job this season as they got Anton Forsberg from the Columbus Blue Jackets, but surprisingly the Blackhawks didn't draft a single goaltender with any of their nine picks.
The team is dangerously thin at that position in their prospect ranks, with Jeff Glass really serving as the only other option besides Forsberg behind Corey Crawford. The Blackhawks do not have any dynamic goaltending prospects, and that is an area that they are going to absolutely need to address when they head into free agency and further into the offseason.
Quest for the Cup: Blackhawks Playoff Performances Over the Years
Biggest Question Mark: Andrei Altybarmakyan
Altybarmakyan has some good skill, as he showed off in the KHL All-Star Game earlier this year, but he also comes with some big questions, as he wasn't ranked in the top 100 prospects by TSN, and he ranked only as the 28th best skater among Europeans in this year's draft class, according to NHL central Scouting.
Even so, the Blackhawks were certainly okay in going off board, as there aren't any surefire picks in the third round, but it was interesting to see them go so far off the beaten path to take a player that probably would have been available at number 90.
Most Underrated Pick: Evan Barratt
Speaking of the 90th pick, Barratt could be a player that Blackhawks fans will get to know over the next few years.
Barratt will be heading to Penn State, but his skillset certainly could translate to the NHL level, as he likes getting into tough areas to score greasy goals, and he has very smooth hands when he gets the puck near the front of the net.
The big knock on Barratt is that he isn't the most athletic player in the game, but with his hard-nosed determination and two-way skill, that shouldn't be a big deal. He could end up coming out of college if his development arc follows the right path, and it will be fascinating to watch him get stronger and learn more of the nuances of the game.
What's Left to Do:
As the Blackhawks near free agency, they'll have to get some clarity on the Marian Hossa salary cap situation, and they'll also have to acquire more goaltending help, whether in the form of prospects or cheap veterans who can compete with Forsberg for the back-up job in Chicago.
The Blackhawks will also be looking for some veteran help on their blue line, as they'll need to have some insurance in case of injury to Duncan Keith and Brent Seabrook this season.