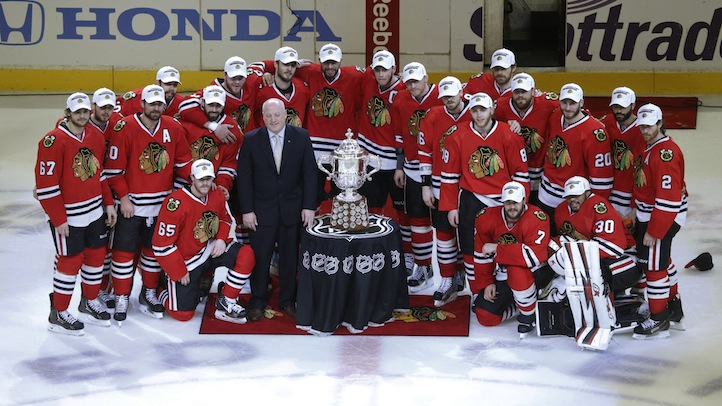 In what will be a truly unique Stanley Cup Final, the Chicago Blackhawks and Boston Bruins will do battle beginning on Wednesday night at the United Center in Chicago.
Not only is the series unique because it's a matchup of two Original Six franchises (which hasn't happened in the NHL in 34 years), but it's also special because the two teams did not play each other during a truncated regular season. Without a common base of opponents from which to judge the teams' respective talents, prognosticating on the series will be a unique challenge for analysts and fans alike.
While there is plenty about the teams that is dissimilar, what they have in common is more compelling. The Bruins, like the Blackhawks, dispatched two of their opponents with relative ease, knocking off the New York Rangers and Pittsburgh Penguins by winning eight out of nine games.
The Bruins also share a similar path to the Hawks in terms of nearly being eliminated from the postseason all together. They trailed the Toronto Maple Leafs by a score of 4-1 with only 10 minutes to go in Game 7 of the teams' first round series, but after a furious comeback, they ended up winning the contest in overtime.
In addition to a flare for the dramatic, the two teams have been blessed by young netminders in the midst of coming out parties. Corey Crawford has been dynamic for the Hawks, outplaying future American Olympic keepers in Jimmy Howard and Jonathan Quick, but Tuukka Rask has been equally outstanding for the Bruins. He helped Boston hold the Penguins, an offense that led the league in scoring in 2013, to only two goals in four games, including a 53-save virtuoso performance in a double overtime victory in Game 3.
Finally though, it's the myriad of ways that both teams can beat opponents that sets them apart as the league's best two clubs. The Blackhawks have shown a penchant throughout the playoffs of beating teams with a combination of blistering defensive pressure and a transition game that is second to none, but can also win with a system predicated on dump-and-chase offense and getting traffic to the front of the net.
The Bruins also have multiple arrows in their quiver. With guys like Brad Marchand and Milan Lucic, they are a team that can ratchet up the physicality quotient at a moment's notice, but they also have offensive players like David Krecji and Nathan Horton that make their offensive attack look smooth and controlled.
There isn't a player on the team that better exemplifies both of these qualities than Patrice Bergeron, who along with Hawks captain Jonathan Toews was nominated for the Selke Trophy, given to the league's best defensive forward. He has lived up to his billing as one of the top two-way players in the league during these playoffs, with 11 points in 16 games while playing a huge role in shutting down some of the game's best offensive players, including Sidney Crosby and Brad Richards.
Needless to say, fans can look across the ice at the Bruins and see a lot of qualities that will remind them of the Blackhawks. These two teams have risen to NHL prominence after many lean years of irrelevance, and having won two of the last three Stanley Cup championships, it's clear that their ascendancy has been no fluke. This should be a great Cup Final between two historic franchises, and this series will be a great reward to those diehard fans that have stuck with the teams throughout the tough times.