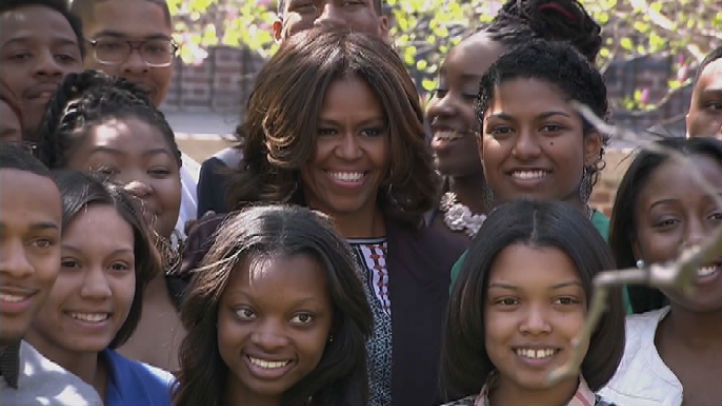 First Lady Michelle Obama and rapper Bow Wow welcomed dozens of Chicago high schoolers to Howard University in Washington Thursday afternoon.
The First Lady joined the students on their college visit to promote the President's "North Star" initiative, which aims to bring America's proportion of college graduates back to the highest in the world by 2020.
Obama, a Princeton University and Harvard Law alum, toured dorm rooms and posed for a group photo with the juniors and seniors from Chicago Public high schools as Howard students shouted from dorm room windows.
Donning a maroon pant suit and black flats the First Lady showed her school spirit by waving a "Howard hand" and speaking to the students from a campus food court.
Bow Wow, formerly L'il Bow Wow, joined the First Lady Thursday to help moderate the students' discussion.
"I'm very proud of you guys," Bow Wow said, after starting off by shouting out Chicago neighborhoods.
Obama pumped her fist when he said "South Side."
The 27-year-old co-host of BET's "106 & Park," a weekday show on which the First Lady has appeared, didn't attend college and instead pursued an entertainment career, according to his manager Bart Waters.
The First Lady commended Bow Wow, a child rapping prodigy, for his support for education and said she was "very proud of this young man."
She then went on to encourage the students to go to college or pursue other higher education.
"While there's a lot of work that needs to be done on our end," she said, referring to government, philanthropy and other resources, "you don't have time to wait for everybody to fix the system."
CPS officials said 37 students were on the campus visit from 18 area schools.
"This has been the most phenomenal day of my life," Pamela Mondane, 17, told Obama.
The senior at Whitney Young, Obama's alma mater, said she intended to enroll at Howard University later this year.