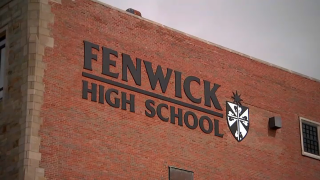 Fenwick High School students were given the "all clear" to return to campus after being forced to evacuate the building Monday morning following a bomb threat, according the school.
Oak Park police contacted the suburban high school Monday morning about a bomb threat, which caused officials to implement its crisis protocols, Fenwick Principal Peter Groom said in a statement.
Students were evacuated from the school "until a thorough investigation" occurred, Groom said.
According to an update, students were returning from nearby Ascension Church where they gathered during the search.
"All students, faculty and staff are currently safe and away from the building, and there is no immediate threat to their wellbeing," the statement said earlier in the day.