Funny that I should be writing this after I was at the game Wednesday night, and Starlin Castro made an error to give away a run, made a baserunning error that would have led you to believe he'd been wandering around Dodger Stadium late at night, and struck out three times.

Such is my karma. But I'm close to giddy about what I see from Starlin Castro these days.
At the All-Star break, I struggled to come up with reasons to continue to watch the Cubs. After all, I hate to be the one to find excuses to darken others' lives. But the top one was Castro. While no single player, especially not a pitcher, can carry a team to glory, it's always nice to have a star.

And Castro is morphing into one in front of us.
You already knew about the hits, as he was racking those up before August. You knew about his ability to hit a line drive on a pitch in pretty much any location. But what has got me smiling these days is Castro's newfound inclination to pick his spots to turn on one.

Notice his three homers in the past two weeks, to match the three that came all season before that. And all of them came on hitter's counts, such as 2-0 or 3-1.

Starlin appears to be learning that there's a time and place to let it all hang out, and a time to just get a bat on the ball -- a lesson we wish his mentor Alfonso Soriano had learned at such an age.
The projection for Castro has always been that he'll eventually be a 15-20 home run guy. This is why: With that gorgeous swing and inability to hit anything other than a frozen rope, it was pretty easy to see that once he knew when he could let it go and when he couldn't, he would start to send more horsehide over the walls of America.

This is growth.

As a result, he'll want to work himself into more hitters counts, be more patient, and take more pitches. Moreover, he's doing this in the leadoff spot since Kosuke Fukudome's trade, and it's probably where he should have been all along.

He rocks an on-base percentage of .407 and an OPS of .962 from there. And that's where you want someone to get on base all the time.
He's growing in the field too, though he's still erratic. But I thought it was telling Wednesday night night that after that error -- a play in which he still showed some pretty ridiculous range on -- he made a great play behind second base innings laster, turning and firing an utter strike to 1st.
And he's 21. This is where watching a bad team can be fun.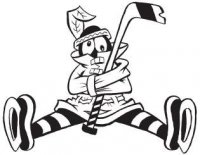 Sam Fels is the proprietor of The Committed Indian, an unofficial program for the Blackhawks. You may have seen him hocking the magazine outside the United Center at Gate 3. The program is also available for purchase online. Fels is a lifelong 'Hawks fan and he also writes for Second City Hockey .