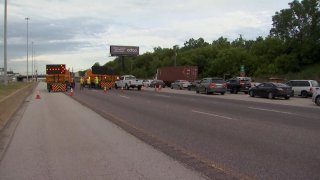 A deadly accident early Wednesday morning on Interstate 55 near Harlem Avenue killed one person and backed up traffic for nearly four hours, officials say.
The accident, between an SUV and a semi-trailer, occurred around 2:30 a.m. Wednesday in the southbound lanes of the Stevenson Expressway at Central, according to the Illinois State Police.
The driver hit the rear of the semi in the outbound lanes, left the roadway and rolled over around 2:30 a.m., according to Illinois State Police.
The driver of the SUV, a Joliet resident, was injured at the time of the accident and transported to a nearby hospital. The driver was later pronounced.
The accident caused significant delays on both the northbound lanes and the southbound lanes of Interstate 55. For several hours, the outbound lanes were closed a detour was in place, snarling the early morning commute for many.
The cause of the accident is currently under investigation, according to officials.
The Chicago Sun-Times wire service contributed to this report.