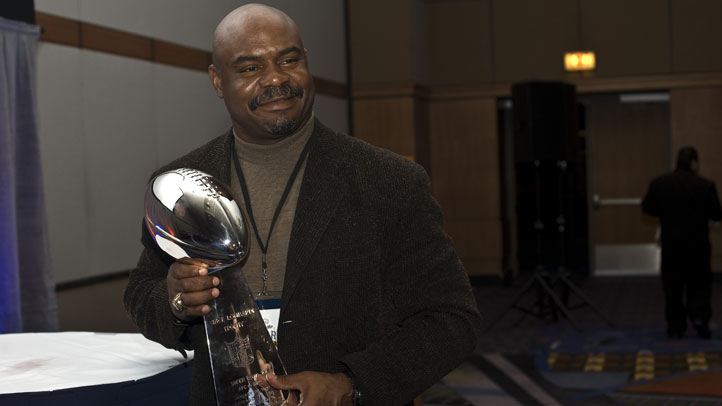 The family of former Bears player Dave Duerson filed a wrongful death lawsuit against the NFL, claiming concussions suffered during his 11-year playing career led the athlete to commit suicide.
"If the NFL would have taken the necessary steps to oversee and protect Dave Duerson by warning him of the dangers of head traumas. . .then (he) would not have suffered dangerous repetitive head trauma, would have recovered more rapidly, and would not have sustained permanent damage to his brain which contributed to his death," the suit says.
Though other former players have sued the NFL over negligence in concussions, this the first to allege the NFL contributed to a player's death. The suit claims the NFL knew the harmful effects of concussions, but concealed those facts from Duerson.

Duerson, a strong safety, played in the NFL for 11 seasons. Seven were with the Bears, and four earned him Pro Bowl honors. He sustained three concussions during his career. According to the suit, the NFL failed to properly treat, diagnose or prevent those concussions, and also didn't warn him of the dangers of playing through concussion.

In the time leading up to his suicide on Feb. 17, 2011, Duerson told his family and friends there was something wrong with his brain. He shot himself in the chest, and asked that his brain be donated to a study at Boston University that is looking at the effects of football on player's brains. He was found to have chronic traumatic encelopathy, which the lawsuit says contributed to his death.

"CTE has been a known entity to the NFL for years. This degenerative brain disease causes various symptoms ranging from cognitive decline to dementia. The NFL's blatant disregard of the significance of this crisis amongst its retirees is baffling," said Corboy & Demetrio lawyer William T. Gibbs, who is also representing the Duerson estate.
The NFL released a statement shortly after the lawsuit was filed.
"We have not seen the lawsuit and therefore our attorneys have not had an opportunity to review it. Dave Duerson was an outstanding football player and citizen who made so many positive contributions but unfortunately encountered serious personal challenges later in his life. We sympathize with the Duerson family and continue to be saddened by this tragedy."
The lawsuit, filed in Cook County Circuit Court, also names helmet maker Riddell as a defendent, claiming their helmets did not do enough to protect players from concussions.
"We have not yet received the complaint; however it is our policy to not comment on pending litigation," a Riddell spokesman said via email.
Copyright FREEL - NBC Local Media