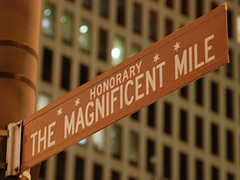 Beginning next week, commuters coming off the Magnificent Mile may find a new, not-so-glamourous detour. Because of some viaduct repair near the Michigan Avenue ramp onto Lake Shore Drive, the Chicago Department of Transportation is closing the entrance.
The project begins Monday, October 1st, and continues for about six weeks.
CDOT officials describe this viaduct as "deteriorated" (it hasn't been improved since its construction in 1963) and CDOT Commissioner Gabe Klein says the repair is crucial before another winter cycle of freezing, thawing and road salt.
The detour will take drivers from Michigan and Oak to Inner Drive, and back onto Lake Shore at La Salle.
This most recent closure comes as crews continue to resurface the north end of Lake Shore in two sections (Sheridan to Foster, Belmont to North), a project that is causing ongoing travel delays.
Meanwhile, on the south side, South Shore Drive is closing this week. Beginning Wednesday, CDOT is shuttering South Shore to through traffic from 79th to Cheltenham Place. This is all part of the US-41 Relocation Project, which is shifting South Shore slightly to the east, to connect with the re-vamped US-41, just south of 79th.
The work will be done during daylight hours, Monday through Saturday, so if you don't live in the area, and don't need access to your private driveway, your detour (along with CTA buses will be on Coles Ave, 76th, and 79th.