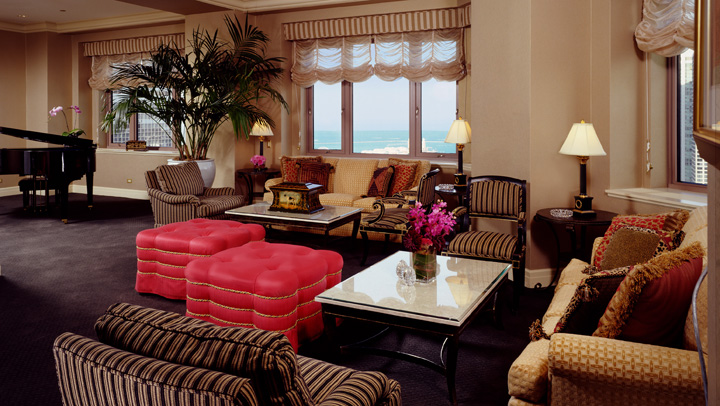 Fellas, how much were you planning on spending on Valentine's Day? Whatever it is, chances are the following deal is going to make you look like a cheap schlub.

The Fairmont Chicago hotel is offering a two-night Valentine's Day package that will "only" set you back a cool $100,000 -- plus tax.

The Romantic Getaway Package is available February 11-14th, and offers the following amenities:
A two-night stay in the 1,850 square-foot Presidential Suite.
The "Charming Rose Petal Red Carpet," a trail of roses from the foyer to the bed of roses and six dozen roses throughout the Presidential Suite.
A "Fairy Tale Moments" bubble-bath-for-two, which includes Cristal Champagne and strawberries prior to a lavender-filled bath with rose petals surrounded by candlelight. Afterward, slip into personalized robes and slippers.
A $10,000 gift card to Saks Fifth Avenue Chicago and a VIP personal shopping experience in their Fifth Avenue Club.
An 18 karat white diamond and sapphire necklace from Marshall Pierce & Company featuring 62 oval cut sapphires (22.54 carats) with pave diamond halos around each sapphire weighing a total of 5.83 carats of diamonds.
An in-room 90 minute massage for two.
A Chef's Table-for-Two at aria restaurant.
Breakfast Du Jour in Bed each morning.
Use of your own private butler throughout the entire 2-night stay.
Fairmont public relations director Nicole Ettenhofer said the hotel didn't want to offer the usual run-of-the-mill Valentine's Day package, and believes it will be attractive for someone looking to get engaged.

"We think there's a possibility that someone will take us up on it. Once you factor in the shopping and the necklace, it's actually a good value," Ettenhofer said.

Think of it as the ultimate way to say "I love you." Or, "I've got more money that I know what to do with, honey."