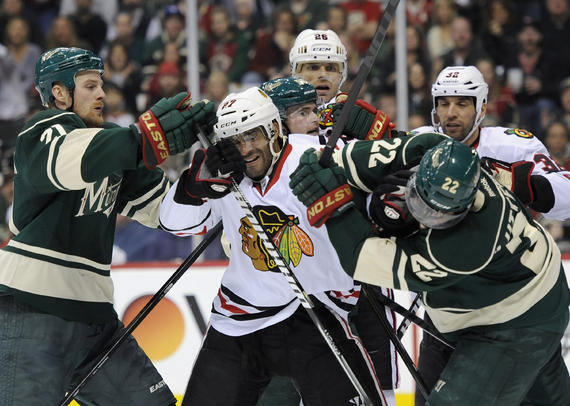 During the 2013 NHL season, the league announced the long-awaited realignment of its divisions. Instead of sticking with the six division format, it was decided that there would be four divisions, with the Detroit Red Wings and Columbus Blue Jackets heading east and the Winnipeg Jets heading west.
With those changes, the Chicago Blackhawks have four new rivals in the Central Division: the Colorado Avalanche, the Dallas Stars, the Minnesota Wild, and the Winnipeg Jets. To help Hawks fans get better acquainted with those teams, Madhouse Enforcer reached out to a group of talented writers to cover these teams, and will bring their thoughts to you each Wednesday in August.
In previous weeks, we have taken a look at the Stars and the Avalanche, but today, we take a look at the Wild, who after a huge offseason last year have been significantly quieter this year. We have recruited Sebastian Read from The Hockey Writers and Emilie Wiener from Hockey Wilderness to help us get to know the team that was the first club the Hawks knocked out of the playoffs on their way to a Stanley Cup championship.
James Neveau: I figured we should get the bad blood out of the way early and address the playoff series that saw the Hawks knock off the Wild in five games. What were your biggest takeaways from that series?
Seb Read: Last year's playoff series showed the gulf between a team that is still very much building for both its short and long term future as a franchise, in the Wild, and one that had the combination of experience, skill, depth, and grit needed to win a Stanley Cup. The Blackhawks have found a pretty successful model building around a core of group of elite players and lots of young talent. Let's hope the Wild can do something similar in the near future.
Emilie Wiener: The fact that the Hawks didn't sweep the Wild was a huge takeaway. No one would have thought the Wild were going to go into the series and win, much less win the Cup. There are a few guys who need to step it up this season. Last season had a few growing pains, but the team can build off of it to have a more successful upcoming season.
JN: After a splashy offseason last year that saw the team sign Zach Parise and Ryan Suter, this year's free agency period was significantly quieter. Were you happy with the minor tweaks, or were you expecting more?
EW: I'm mostly happy with the tweaks, and definitely wasn't expecting more. If anything, I almost think the Wild added too many pieces over the offseason. It will be interesting to see how the team shapes up with a decent amount of competition for a lot of spots.
SR: I think it was a more significant offseason for Minnesota than many people give it credit for. (Pierre Marc) Bouchard, (Matt) Cullen, (Cal) Clutterbuck, and (Tom) Gilbert all departed last season. Meanwhile, (Nino) Niederreiter and (Matt) Cooke significantly change the make up of the forward group (not to mention the movement that could be caused by the development of the team's younger players). I quite liked the way in which GM Chuck Fletcher approached the offseason though. He has boosted the team's young talent, while maintaining what should be a competitive roster.
JN: Speaking of free agency, the Wild will have two big ones next year with Jason Pominville and Dany Heatley potentially hitting the market. Do you see Chuck Fletcher bringing back either of them?
SR: I think Heatley will only be back if he is willing to accept an extremely cheap contract, but I am sure he won't be interested in doing that and will test free agency.
Pominville is more interesting. He is likely to command $6-7 million, which would make him the third forward and fourth player on the roster hitting that number. We know from past experience that too many expensive players can cripple the depth of a roster.
Still, Fletcher invested quite a lot into the Pominville trade, and he isn't likely to be keen on that asset departing for nothing.
EW: I think Fletcher would like to bring them both back honestly. But, as he says every time he's asked about signings and options, it depends on the fit with the team and the price.
With the amount of talented young kids coming up, he's not going to mortgage the future or trade one of them in order to sign one or two guys. Pominville will be a priority, and if there is room on the roster for Heatley and he's willing to take a pretty massive pay cut, my guess is that he would be back as well.
JN: Are there any players that you could see making a big impact for the team that Hawks fans may be unfamiliar with?
EW: Pretty much all the kids on Entry Level Contracts. Those kids are going to be a pain in the Hawks' side for years to come, so they might as well get to know them.
SR: That's an interesting question. I think the biggest impact could come from a known commodity breaking through like a Mikhail Granlund, Matthew Dumba, or Niederreiter. If injuries restrict either or both of Niklas Backstrom and Josh Harding, then young goaltender Darcy Kuemper will become a critical performer.
JN: Finally, with the new playoff format in place, what is your biggest key to the Wild being able to make the playoffs for the second year in a row?
SR: The team's young players really have to come through this year. Cullen was an important player for Minnesota last season holding the forward group together as the second pivot during the team's strongest stretches. Head coach Mike Yeo has youth to integrate and work in together at just about every position.
On the bright side, he has a full length training camp to work with his team this time around.
EW: They need to focus on not going through scoring slumps. It almost bit them last season. It may sound cliché, but winning more games is going to be important with the new playoff format too.