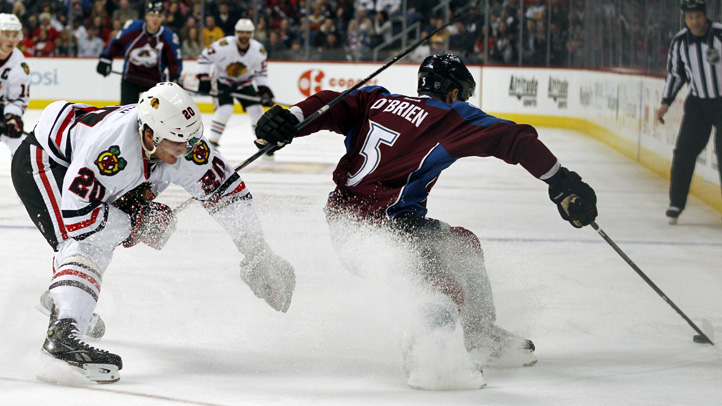 During the 2013 NHL season, the league announced the long-awaited realignment of its divisions. Instead of sticking with the six division format, it was decided that there would be four divisions, with the Detroit Red Wings and Columbus Blue Jackets heading east and the Winnipeg Jets heading west.
With those changes, the Chicago Blackhawks have four new rivals in the Central Division: the Colorado Avalanche, the Dallas Stars, the Minnesota Wild, and the Winnipeg Jets. To help Hawks fans get better acquainted with those teams, Madhouse Enforcer reached out to a group of talented writers to cover these teams, and will bring their thoughts to you each Wednesday in August.
We will start today with the Avalanche, as Avs blogger (and Nintendo Ice Hockey savant) Jibble Scribbits and Kevin Goff of The Hockey Writers give us the rundown on Colorado.
James Neveau: There really wasn't a consensus number 1 pick in the NHL Draft this year, but there was still a good deal of surprise that the Avs didn't take Seth Jones and instead went with Nathan MacKinnon. Were you surprised by the move, and more importantly, are you okay with it?
Kevin Goff: I am surprised and I'm not at the same time. Considering the state of the Avalanche defense, both on the NHL squad and in their system, Jones would have made a lot of sense. At the same time, there's no denying what a dynamic player MacKinnon is, and it's really hard to pass up a player of that caliber. With the history of fantastic centers that we have had in Colorado, seeing Matt Duchene and MacKinnon on the same team have a lot of people incredibly excited about what is to come.
As for being okay with it, there definitely was a large faction of people that were initially angry that we didn't take Jones, but that has definitely passed. People are very excited about seeing Nathan MacKinnon in an Avs sweater.
Jibble Scribbits: I don't think there was a lot of surprise in the pick. (Executive VP) Joe Sakic and (Head Coach) Patrick Roy greased the skids pretty well for that one, coming out and saying they weren't taking Jones. From there, "Mac King" was the odds-on favorite.
As for being ok with it - I'm not much of a prospects guy. I only get the opportunity to see these prospects a handful of times (World Jrs, Memorial Cup) and the statistics backing them up are not very informative. I generally think that fans don't really have enough information to make good judgements about prospects, so I have to trust the Avs scouting staff to take the right players. Rick Pracey (Avs head scout) has been pretty good in his short time as head scout, so I trust his judgement.
JN: What should fans expect out of MacKinnon this season?
JS: I think, and hope, the Avs use "Mac King" (I do not care if this nickname annoys you, Hawks fans) the same way The Oilers used RNH his first season: heavily sheltered, and taking a ton of faceoffs in the offensive zone. And I like that MacKinnon will pair with McGinn and Steve Downie.
KG: Speed and an engine that won't quit. A lot of what I read and see about MacKinnon reminds me a lot of Chris Drury when he first broke into the league. He'll be starting on the third line, so he won't have to go up against the top d-men and he'll be able to ease his way into the league. Count on him seeing some power play time as well as he has a fantastic shot.
JN: Hawks fans know all about the growing pains associated with having a young captain. How would you grade Gabriel Landeskog's first year as captain of the Avs?
KG: It was a tough year for Landeskog last year. It's hard to give him a grade as a captain since he dealt with injury for a decent portion of the year. At the same time, the team really fell apart last year in pretty much all aspects and it wasn't until our backup goalie dragged the team across the coals that anything began to happen. I think Landy tried to do a "lead by example" approach to a team that needed to be kicked in the butt.
The team had been clearly stopped listening to the coach and needed somebody to get them focused again it should have been their captain. It's true it was just his second year in the league and first as a captain, so I am hopeful he will be able to grow into this role, but I'd have to give him a C- as captain in his first year. Definite room for improvement.
JS: To be honest I'm not sure. Landeskog faced some heat for not being the one to give the "Vegas" speech, but I think leadership is a team thing. Jean Sebastien Giguere speaking up was more a mark against (former head coach) Joe Sacco than Landy. Honestly though I think the "who's Captain" question is an overrated thing.
JN: We'll go ahead and continue with the theme of surprising decisions with the Avalanche picking Patrick Roy to be the team's head coach. What changes are you expecting from the Joe Sacco regime?
JS: I think we'll see better defensive matchups. Maybe Sacco let his assistants control the defensive pairings more, because too often, guys like Greg Zanon, and Matt Hunwick were taking critical defensive zone draws against the Patrick Kane's and Jonathan Toews of the world.
Also, the Avs under Sacco had some of the worst penalty +/- in history. In the 2011-12 season, the Avs set a record for fewest power play minutes in a season going back to 1980, when records started being kept. Many fans blamed Saccos calm/moribound demeanor and unwillingess to engage referees as a result, but I chalk it up more to random chance.
Regardless, there's very little chance Roy holds back his feelings when he feels the refs have wronged him.
KG: We've already seen a lot of changes in the whole franchise since the end of last year. They have been surprisingly open about everything ever since the transition to Joe Sakic and Patrick Roy. One of the biggest things that has the ear of a lot of Avalanche fans was Roy saying that while the Avalanche might not compete for a Stanley Cup right away, they would have a Stanley Cup attitude. That type of attitude and overall pride in their team and the way they play the game is the biggest change to be expected.
With Joe Sacco the team would go through long periods of time where the simply seemed to be going through to motions, and the long losing streaks showed it. The team didn't care, and simply wouldn't show up. With Roy's competitive nature and high expectations on everybody, simply bringing an effort that shows that they care about what is happening every single night is the biggest change we will see.
JN: Are there any under the radar players that Hawks fans should keep an eye out for when the teams start playing against each other?
KG: There are a few players to watch for the Avalanche this year. Steve Downie could be a player that surprises people this year. The Avalanche acquired Downie at the trade deadline a couple seasons ago from Tampa Bay. He caught fire quickly, but got injured and struggled down the stretch. Then he had a season ending injury the second game of the year this past season. He's a hard working third line player that has a strong offensive upside. He's also quite a pest, a very useful player to have in the lineup if he can stay healthy.
Tyson Barrie and Stefan Elliott are guys to watch as well. Barrie had a strong season last year and Stefan Elliott had a strong finish after an inconsistent year. It will be interesting to see if these two can continue to build off their years. Both are offensive defenders that can be dynamic but who can also leave a bit to be desired in their own zone. Barrie made strong strides a season ago while Elliott regressed a bit. They have huge potential and could take off this year.
There's a lot of promise for this Avalanche team, but it's time for them to stop just being a promising young team and start to live up to it.
JS: Tyson Barrie is a 2nd year player that I think is going to be very good. He reminds me of a "Hawks" style defenseman. Not incredibly physical, just incredibly efficient at moving the puck out of his own end and positionally solid. His biggest weakness is his one-on-one defense so he gets noticed more for mistakes, but he's a very good subtle player.
Another guy to watch is PA Parenteau, who had an unnoticed fantastic season on Matt Duchene's wing. He also helped Duchene put up his best season yet.