You know it's a bad baseball season when you can't fully enjoy a seven-game winning streak because of what it might mean for the future of your team. But this happens when your team is run by dunderheads who might not know that they're dunderheads and hence might be tempted to keep the dunderheads around if they have just even a brief spurt of not being dunderheads.
But seven games shouldn't be enough for that. We hope. There was a large faction of Cubs fans who thought a 10-game streak followed by a strong close to the season would once again delude owner/cheerleader/fan-boy Tom Ricketts that Jim Hendry was the GM to bring the Cubs back, which in turn would have kept manager/albino/gibbering manager Mike Quade around for another year. And once again the wheels would meet mud, and we'd be here again in 2012.
Will it? We don't know. This is what happened last year though. The Cubs were woeful, and Lou Piniella got to the point where he cared so little, he had to not be here to not care.
Mike Quade was able to rack up what turned out to be meaningless wins, garner himself the job (which I was admittedly behind) full-time, and ta-da, we have this flaming clown car called the 2011 Chicago Cubs.
In all seriousness, last season was a second sub-par season for the Natioal League's highest-spending club, which should have been enough to see Jim Hendry off to the bread line. But Ricketts didn't have the stones to do that, and no we don't know that he ever will.
On the flip side, Cubs fans have sat through four months of bad baseball. So to have two weeks where the Cubs were actually enjoyable to watch is a relief that we all deserve. No missed cutoff men, no swings at ptiches barely within the walls of the stadium, no errors, it's been a nice oasis in a desert of awful.
But always with the Cubs, there's something on the backend, a cloud you can't ignore. Will brief competence beget a longer area of woeful? You never know. We Cubs fans, we can never fully enjoy anything. There's always a lightning bolt in the silver lining.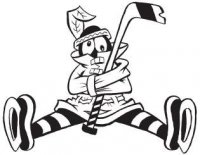 Sam Fels is the proprietor of The Committed Indian, an unofficial program for the Blackhawks. You may have seen him hocking the magazine outside the United Center at Gate 3. The program is also available for purchase online. Fels is a lifelong 'Hawks fan and he also writes for Second City Hockey .