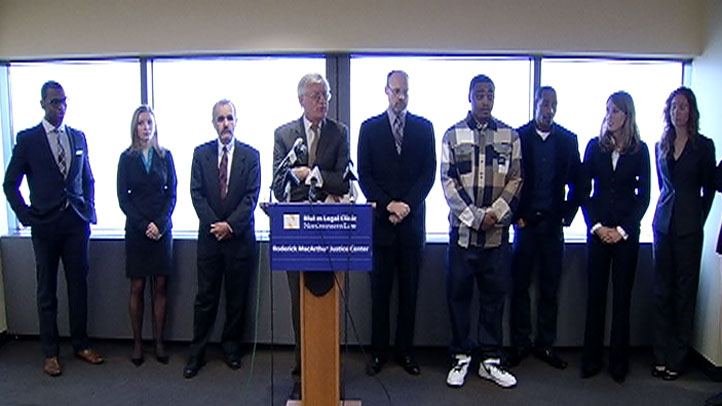 Four Chicago men have filed a federal lawsuit against the city of Chicago after they were wrongfully convicted in a 1994 Chicago rape and murder.
The men, known as "the Englewood Four," filed the lawsuit Thursday asking for a jury trial.

The lawsuit names the city, several Chicago police officers and other public entities. The Cook County State's Attorney's office decided in January not to retry the men after a judge overturned their convictions in November 2011.

DNA evidence last year linked another person to the crime.
The men are Michael Saunders, Harold Richardson, Terrill Swift and Vincent Thames. They claim emotional distress and malicious prosecution. The men each spent at least 15 years in prison.
"This is Chapter Two in a long battle," Swift said.

The men also claim a code of silence within the Chicago Police Department led to their false convictions. Their lawsuits come just two days after jurors ruled in favor of a female bartender beaten by a former Chicago cop in 2007 in a case that aimed to show that such a code of silence exists.
Mayor Rahm Emanuel was asked about that alleged cover-up Thursday.
"I don't know what actions or not [may have been taken] on whether there was a code of silence," Emanuel said. "But I do know what I want in a Police Department. There should be zero tolerance for anybody -- individual or a department -- that encourages any actions like that. And I don't believe that happened there."

Flint Taylor of the People's Law Office said he never saw any detectives come forward in the case of the Englewood Four to say the wrong men had gone to prison, though.
"They went and continued to stand behind their coercion and their fabrication," Taylor said, "So the code of silence was at work very much so in these cases."
A spokesman said the city hasn't been served with the lawsuit and had no comment.

The Associated Press contributed to this report.
Copyright CHIST - SunTimes