The only news out of Hawks practice this morning before they fly off for a lovely night in Nassau County (and is there any other kind in Nassau County?) is that Ray Emery will get the start.
While getting a start against the Islanders isn't usualiy indicative of a sea change in goalie policy, this would have been a perfect night off for a No. 1 had he been going well, you can be sure that if Emery plays well Thursday he will be back in there Sunday for the far tougher game against San Jose.
Which might just plunge the Hawks into a goalie controversy for the fourth year in a row. Maybe it's just the natural order of things around here, like Philadelphia, except the Hawks' have always worked out well. But this one would be different.
No one is under the impression that Ray Emery can be a long term solution. He can get you out of a stretch of games, maybe even a month. He did it for the Ducks last year, but that was 10 games and he was splitting duties with Dan Ellis. That's about what he's built for. Once the Ducks turned over the full job to him in the playoffs, he was exposed by the Predators, who aren't exactly a firing squad.
Right now, the Hawks are in the position of hoping that Crawford can find his game again, and now he'll have to do so with less playing time than he was prepared to get. The Hawks simply can't throw him out there regularly right now until they're sure they'll even get a decent performance. Maybe taking a step back and knowing the team will be ok for a short time without him is what he needs. It's worked for others.
But if it doesn't? Then it gets tricky. The Hawks don't have an ace in the hole this time. The closest thing they might have had is Alex Salak, who's currently injured and only in his first year in the organization. They would never turn things over to him. Remember, Antti Niemi at least had a full season in the AHL before joining the Hawks, and Crawford had give.
Which means the Hawks would have to acquire one, and that's always a crapshoot. And it would move to the top of the priority list, meaning there might be less assets to get the defenseman and top six forward the Hawks could also use. And that would also raise questions of what's done with Crawford and Emery. Would the Hawks carry three goalies? They never have. Would Crawford be part of the deal, signaling an awfully quick white flag? Would he be the backup and Emery waived?
These are questions we'd rather not get to.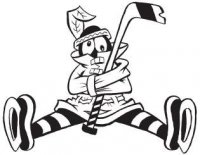 Sam Fels is the proprietor of The Committed Indian, an unofficial program for the Blackhawks. You may have seen him hocking the magazine outside the United Center at Gate 3. The program is also available for purchase online. Fels is a lifelong 'Hawks fan and he also writes for Second City Hockey .