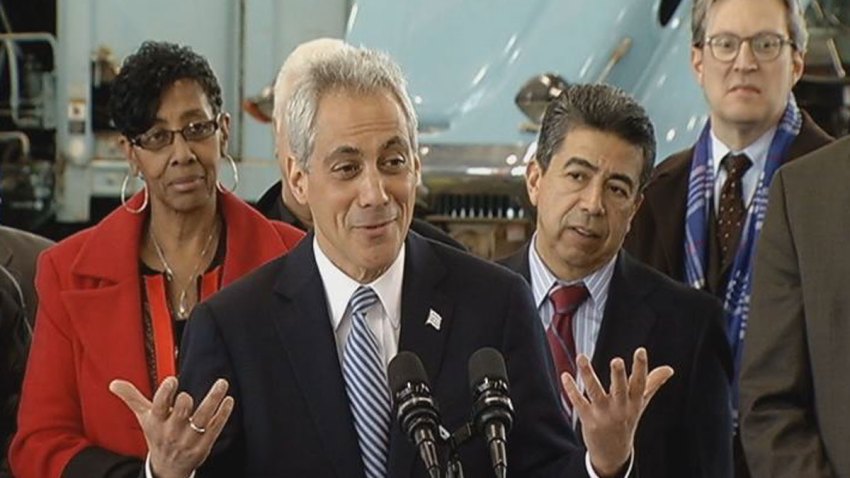 Mayor Rahm Emanuel may be on the verge of a Blackhawks fan fail.
The Chicago mayor made perhaps the most confusing ever My City's Team vs. Your City's Team bet with Los Angeles Mayor Eric Garcetti.
According to a press release from the mayor's office, Emanuel and Garcetti are betting "the modeling and programming skills of their respective cities' youth to build a civic landmark using a 3-D printer that will be sent to winning city."
Huh?
The bet is clearly non-traditional. Most mayoral sports bets involve sports memorabilia or food or donating time to a soup kitchen or something along those lines.
(For a true Chicago sports bet see the Blackhawks and Los Angeles Kings' Twitter wager)
Ward Room Staffers were a bit confused by Emanuel's announcement, so we called up the mayor's office for a little clarification.
Spokesman Bill McCaffrey then clarified that if the Blackhawks win, the youth in L.A. will print a civic landmark from Chicago and send it to the mayors' offices.
"It's a way to get the kids involved," he said.
To be sure, there are some of those traditional culinary trades attached to this wager, including Eli's Cheesecake, pastrami from Manny's Cafeteria Delicatessen, a six pack of Chicago's Half Acre Beer Company and the Chicago mix of Garrett's Popcorn from Emanuel. Garcetti, in turn, is betting Tommy's Chili, a copy of End of Watch, wine from the San Antonio Winery, Raymond Chandler and Roy Choi's "L.A. Son: My Life, My City, My Food."
The bet also involved an attempt at typical sports "trash talking," but it seems like Emanuel may have be schooled in that also.
"Chicago launched its Summer of Learning last year with more than 200,000 kids participating. This summer, Los Angeles is launching a similar program for their young people. Both cities have extraordinary and talented young people and hockey players, but my money is on Chicago," he said in a statement. "While the Kings are a good team, I am confident in the Hawks will show them how real hockey royalty plays. Regardless of the outcome, children in both cities will have an opportunity to enjoy summer."
Garcetti, on the other hand, made things a little more personal.
"After dining on the Ducks, the Kings are primed to feast on the Blackhawks. We're excited to launch our Summer of Learning by schooling Chicago in Hockey 101," Garcetti said in a statement.