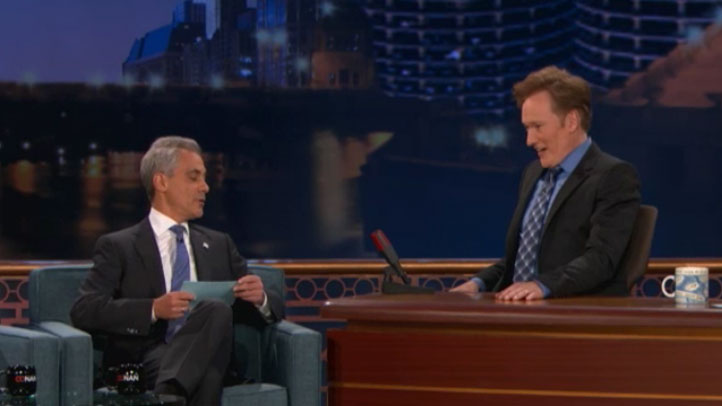 Mayor Rahm Emanuel may not have successfully brought the Super Bowl to Chicago, but he let Conan O'Brien waltz in with his "Super Bowl Shuffle."

Emanuel appeared Monday on "Conan," being filmed this week in town to kick off the "Just For Laughs Chicago" festival, and quizzed the Massachusetts native on his Chicago knowledge and patriotism in what he called a "citizenship test."

It became clear during the mayor's quiz that Chicago sports enthusiasm is a big part of becoming a resident. Case in point: What's the country's biggest threat? Answer: Green Bay Packers. Conan claimed he's not in the city to cause trouble but to do the Super Bowl Shuffle.


It wasn't just Chicago sports the talk-show host mastered under Emanuel's direction. Conan learned to swap his northwestern twang for a Chicago accent and replace his "th" with the classic "d" for "Da Bears."

After Emanuel declared Conan a Windy "Citizen," it became Emanuel's turn to prove he's a true Chicagoan.

Conan tasked the mayor with giving famous Chicago athletes "mobster nicknames."

Emanuel used his exaggerated Chicago accent to dub Dick Buttkiss as "Richard Hiney-Smoocher," Shoeless Joe Jackson as "Joey No Shoes," Michael Jordan as "Mikey Six Rings," and William the Refrigerator Perry as "William Da Refrigerator Perry."