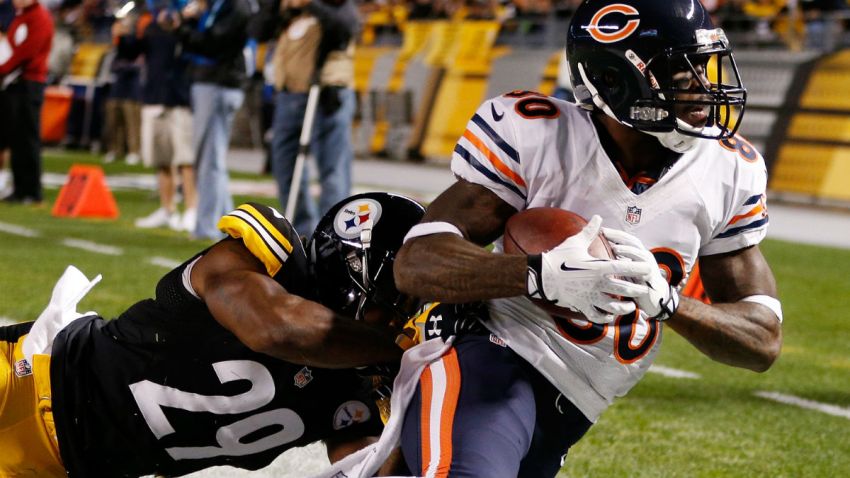 Before meeting the Steelers in Pittsburgh, Bears players on Sunday attended prayer service at the team hotel. The message from the good book was "selflessness," the same message Marc Trestman has been preaching in his offense this season.

When it comes to offense, Bears players pray for patience and wait their turn. Earl Bennett's turn came Sunday night with 5:55 left to play and the Bears clinging to a 4-point lead.
Wide receiver Brandon Marshall's 41-yard gain on third and long kept the drive alive.

"We had a good scheme up front blocking-wise," Jay Cutler recalled. "Max up leaving Martellus in. I threw a receiver route. We caught man. We hadn't caught a lot of man up to that point."

Cutler then unfurled a 17-yard pass in the corner of the end zone for Bennett, a bit late he thought, but Bennett got his hands on it and came down with the catch.

Steelers Safety Shamarko Thomas had such tight coverage it looked as if Bennett's catch was out of bounds. Even the officials didn't give the Bears 6 points until Chicago coaches unanimously appealed to Trestman to throw the challenge.

He did, the play was overturned, and a four-point lead became 11, just the cushion the Bears needed in a hostile environment on the road.

"Marty [Bennett] always says Earl has to have his touches, too," Marshall said of tight end Martellus Bennett encouraging Earl Bennett to get involved in the Bears offense. "Tonight when he scored, the whole sideline was saying it. It was good to see Earl finally get that touchdown."

Just two weeks ago Bennett agreed to take a $1 million pay cut. He didn't have to. He could have demanded a trade. Instead he stayed and waited his turn.

"For him to keep his head in the game and make that play for us, it's special. It says a lot about his character."

After the game, former NFL quarterback and current ESPN football analyst Trent Dilfer referred to Bennett as "Edger." Not Edgar Bennett, not Martellus Bennett. His name is Earl.