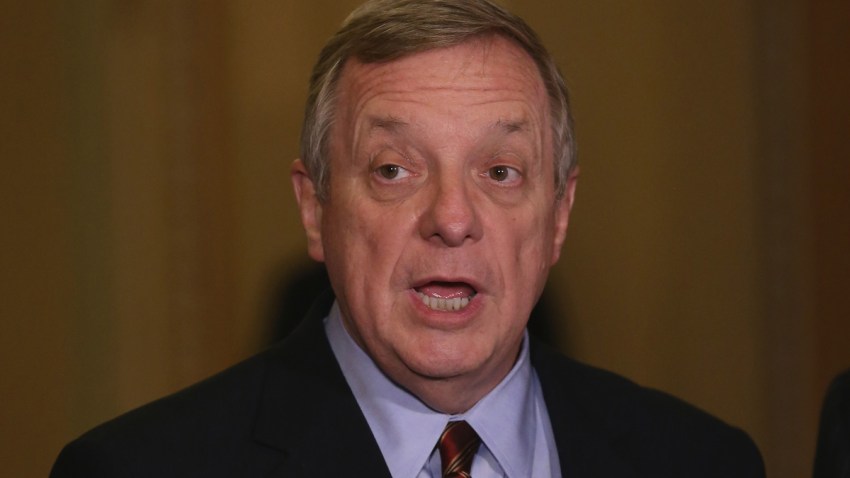 Sen. Dick Durbin and a group of U.S. senators announced Thursday that they plan to introduce a bill in January that would require President-elect Donald Trump and Vice President-elect Mike Pence to disclose and divest in any potential financial conflicts of interest before being sworn into office next month.
The group, which also includes Sens. Elizabeth Warren, Ben Cardin, Chris Coons, and Jeff Merkley, are calling on Trump and Pence to divest in any financial holdings that could potentially conflict with the Emoluments Clause of the U.S. Constitution.
The Emoluments Clause, which is sometimes referred to as the ineligibility clause, prohibits gifts, titles, or office from any foreign government. The clause could pose a problem for Trump, who has real estate holdings across the globe, as well as other financial interests.
"President-elect Trump's financial entanglements are unprecedented in American history, and the American people are still waiting to hear what steps he will take before January 20th to guard against conflicts of interest and corruption in his administration," Durbin wrote. "Just this week, the President-elect cancelled a scheduled announcement about severing his business ties, taking time instead to meet with Kanye West."
"The American people deserve to know that their president is putting the United States' interests before his own, his family's, or that of any foreign government," Durbin added.
On Monday, Trump's team abruptly canceled a Thursday press conference where the president-elect was expected to address his business dealings, NBC News reports. Instead, the president-elect announced Monday on Twitter that he plans to leave his businesses before he's sworn into office next month, despite not being "mandated by law to do so."
"Two of my children, Don and Eric, plus executives, will manage them," he tweeted. "No new deals will be done during my term(s) in office."
Trump also announced that he's planning a press conference in the "near future" to discuss his business dealings, cabinet picks and "all other topics of interest."
The United States Office of Government Ethics also urged Trump to divest himself from his business empire Monday, according to NPR.
"Transferring operational control of a company to one's children would not constitute the establishment of a qualified blind trust, nor would it eliminate conflicts of interest," OGE Director Walter M. Schaub, Jr. wrote.