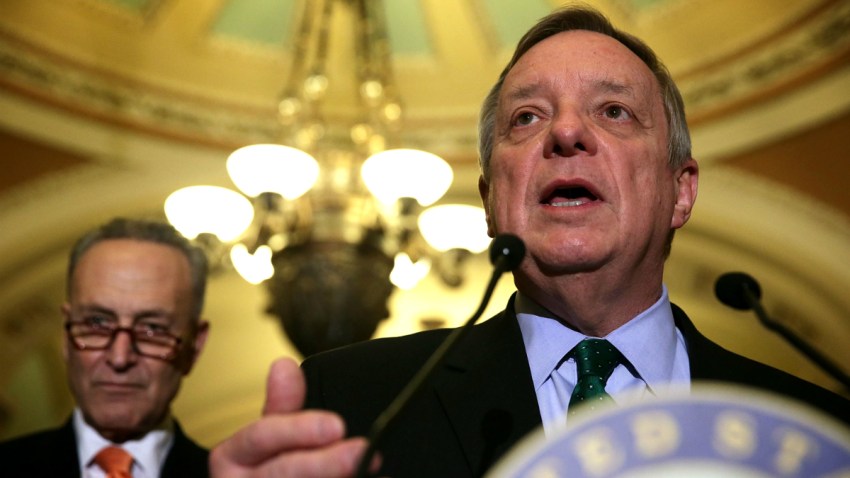 Sen. Dick Durbin slammed Republican senators for holding up emergency funding to address the Zika virus during a speech on the Senate floor Wednesday.
Congress once again rejected a bill that would have allocated federal money to fight Zika Tuesday. Senate Democrats blocked the bill over restrictions in the legislation to cut funding on Planned Parenthood clinics.
During his speech, Durbin noted that President Barack Obama requested $1.9 billion to develop vaccines to fight the spread of the virus in February. Durbin blamed partisan politics for holding up the emergency funding.
"Here we are almost seven months later, 200 days later, and Congress still has refused to provide the resources necessary to protect American families from the virus," Durbin said. "This is a disgrace. It is an outrage."
In June, Senate Democrats rejected a $1.1 billion proposal to fight the virus, again claiming that the Republican-drafted bill included "poison pill" provisions that would deny funding for Planned Parenthood and ease rules on pesticide spraying. The measure was presented with an accompanying Veterans Administration spending bill.
"I'm tired of the partisan games being played with the health of pregnant women and babies. To date, that's exactly what's happened with the partisan response to this Zika crisis," the senator added. "It's time for this to stop."
Republican Sen. Mark Kirk called on members of the House Tuesday to approve the funding for Zika and the VA.
"Americans have waited too long for Washington to pass the $74.4 billion funding bill for veterans and $1.1 billion to stop the spread of Zika," Kirk said in a statement. "The House should drop the poison pill language so we can pass a clean bill immediately."
Kirk signed a conference report on the Zika funding bill that included "poison pill" provisions in June.
During his speech Wednesday, Durbin noted that as of last week 17,000 people in the United States and its territories have been infected with Zika. This includes 1,595 pregnant women, who are most vulnerable to the virus. In July, there were 3,667 people infected with the virus.
"I would say to the Republican majority, you've been warned by the president, by public health experts and others, that your failure to respond to the president's request would endanger people living in the United States and its territories and especially pregnant women," Durbin said. "And yet, the Republican leadership has refused the president's efforts to provide the resources necessary to fight this deadly Zika virus."
"The numbers are devastating but not surprising," Durbin added.