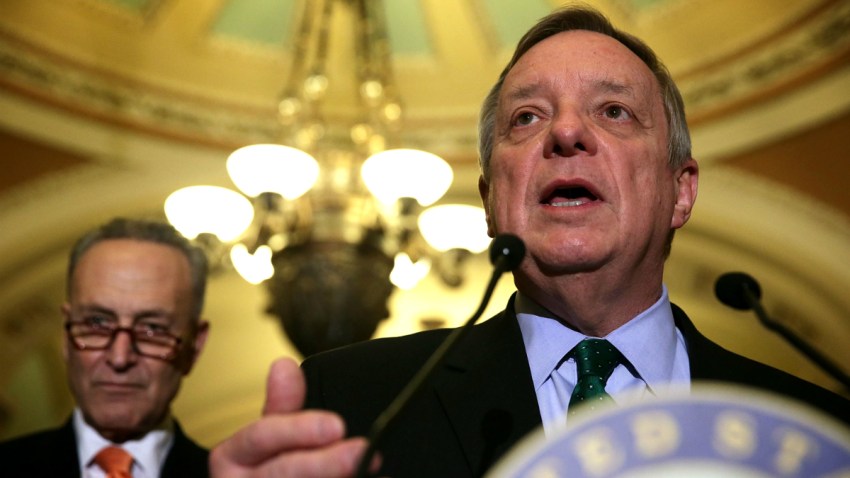 Sen. Dick Durbin met with President Donald Trump's Supreme Court nominee Neil Gorsuch in Washington D.C. Tuesday, crediting the judge's "impressive resume" before criticizing the president's first month in office.
"We are at the beginning of a long conversation about our Constitution, about the authority of the president and the bulwark for that Constitution to protect the values that are written into that document falls on the judicial branch and primarily on the Supreme Court," Durbin said.
Durbin faulted Trump for a variety of decisions, namely his dismissal of former Acting Attorney General Sally Yates, who refused to defend his contentious travel ban.
The senator, who has now met with six Supreme Court nominees, also voiced concerns about the ouster of former National Security Adviser Michael Flynn, who resigned Monday night amid allegations of improper communications with Russia's ambassador to the United States in December. Among the topics discussed were the sanctions imposed by former President Barack Obama for Russia's role in the 2016 presidential election.
"That's why this selection of a nominee to fill the deciding seat on the court is historically so important in the context of what we have seen over the past 25 days of the Trump presidency," he added. "We cannot dismiss the possibility that we are going to be facing some of the most critical Constitutional decisions of our time."
Durbin, who criticized Gorsuch's ruling in the landmark Burwell v. Hobby Lobby, Inc. case, insisted that Trump's nominee be held to the same 60 vote threshold as past nominees, despite the president's call for a rule change to force a simple majority vote.
"I think the 60 vote standard is the right standard," Durbin said. "That is not a filibuster, as I see it. That is a standard that recognizes that if you're going to serve on the Supreme Court, lifetime appointment to the highest court of the land, you shouldn't get by the Senate by the skin of your teeth."
"You ought to show real bipartisan support," he added.
In addition, Gorsuch told Durbin Tuesday that he called Federal Judge Merrick Garland after being nominated by Trump. Obama nominated Garland to the Supreme Court in March, but Republicans, led by Senate Majority Leader Mitch McConnell, blocked his confirmation, holding that Obama's successor should name the next nominee.
"I remember what happened to Merrick Garland," Durbin said. "It was totally unfair and unjust and Senator McConnell should never forget it. I'm gonna stand by the same Constitutional standard that I was insisting on for Garland when it comes to Judge Gorsuch."
On Tuesday, Durbin also presented Gorsuch with a gift — a biography of former Federal Judge Frank Johnson, who made landmark civil rights rulings that helped end segregation and disenfranchisement in the American South.
"Years ago, I thought, I want everyone aspiring to be a federal judge at every level to know what it takes to be courageous to make a difference in history," Durbin said.