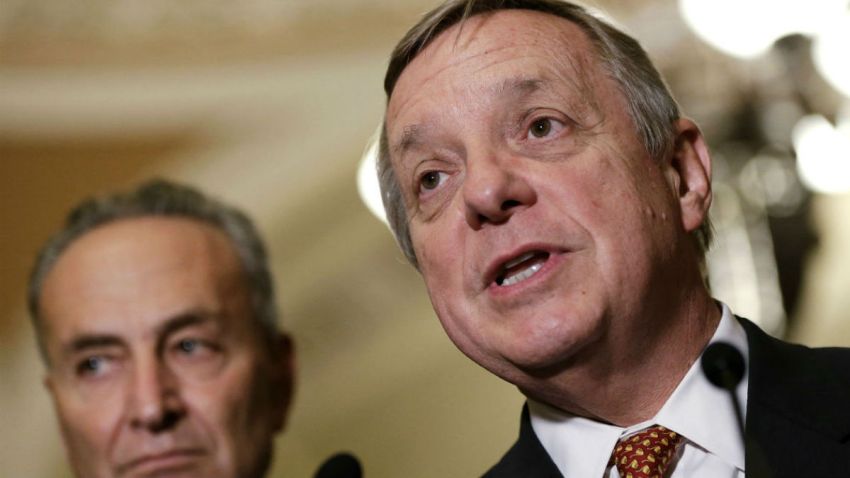 A Facebook post by Sen. Dick Durbin alleging that a House Republican leader made a disrespectful comment toward President Barack Obama is causing a stir after some officials claim the incident never happened and others say the assertion is a result of a "miscommunication."
On Sunday, Durbin, in a post that remains on his Facebook page, wrote:
"Many republicans searching for something to say in defense of the disastrous shutdown strategy will say President Obama just doesn't try hard enough to communicate with Republicans. But in a 'negotiation' meeting with the president, one GOP House Leader told the president: 'I cannot even stand to look at you.'"
"What are the chances of an honest conversation with someone who has just said something so disrespectful?"
On Thursday, the Chicago Tribune reports that a White House offical issued this statement:
"While the quote attributed to a Republican lawmaker in the House GOP meeting with the president is not accurate, there was a miscommunication when the White House read out that meeting to Senate Democrats, and we regret the misunderstanding."
Durbin responded to the statement on his Facebook in a post that read:
"I appreciate this clarification from the White House that explains recent conflicting reports on the GOP quote. It is important now to move beyond the unfortunate events of the last few weeks and work together constructively so that we're not faced with another shutdown showdown or debt-ceiling debacle."
Obama spokesman Jay Carney, speaking Wednesday to reporters, said he looked into the claim and spoke to somebody who attended the meeting and "it did not happen."
The Tribune reported that a spokesman for House Speaker John Boehner, R-Ohio, called on a Durbin to immediately retract the "reckless allegation" and to apologize, stating Durbin's accusations were "serious" and "invented out of thin air."
According to the Wall Street Journal, Durbin spokesman Max Gleischman said Wednesday Durbin stands by his comments.
NBC Chicago's request for comments from Durbin's office were not immediately answered.