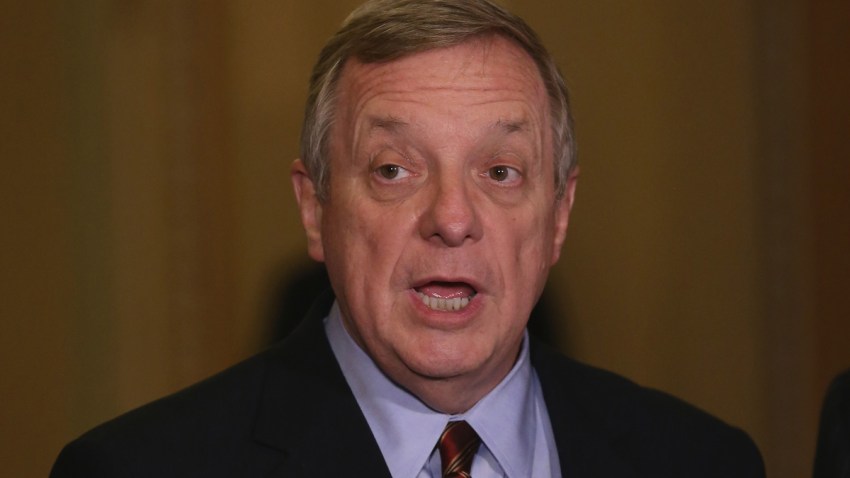 This week, U.S. Sens. Dick Durbin and John McCain debated the funding of Russian-built rocket engines that the U.S. uses to power national security satellites.
In the wake of the Russian annexation of Ukraine's Crimea territory in 2014, the U.S. imposed stringent sanctions against the country.
The United Launch Alliance, a corporation created by Boeing Co. and Lockheed Martin Corp., has continued to use Russian-made rocket engines to power their satellites.
The defense authorization bill of 2016 called for nine Russian engines for space-launch services. Nonetheless, a provision was introduced to the bill by a group including Sens. Dick Durbin and Richard Shelby that allows ULA to buy an unlimited amount of Russian rocket engines.
"The pork-barrel impulse is so strong that some lawmakers are now trying to have American taxpayers subsidize Russia's Vladimir Putin and his cronies," McCain said in a Wall Street Journal op-ed published Sunday.
McCain fears that hundreds of millions of taxpayer dollars are being spent on Russian technology while the country occupies Crimea. McCain is also concerned about Russia's relationship with Iran and their bombing of U.S.-backed troops fighting in Syria.
"Such dark-of-the-night shenanigans have too often been typical in Washington," McCain said. "But in all my years in elected office I have rarely seen a more cynical scheme to undermine the will of Congress and the American people."
McCain has since introduced legislation to repeal the provision and claims that U.S.-made engines are ready for use.
"The good news is that we don't need to buy more Russian rocket engines," McCain said. "Air Force Secretary Deborah Lee James recently testified to the Senate Armed Services Committee that ULA's Delta IV and SpaceX's Falcon 9 rockets, both of which have American-made engines, can provide assured access to space."
Durbin responded to McCain's op-ed Thursday in a letter written to the Wall Street Journal.
"Despite Sen. McCain's statement in your newspaper, the secretary of the Air Force has made it clear that it will take at least five years before we have an American-made substitute rocket engine and that to prohibit the use of Russian rocket engines before then could endanger our national security," Durbin said. "My colleague from Arizona is unmoved by that warning."
Durbin claims that he called the first hearing between CEO's of ULA and SpaceX with the goal of ending ULA's monopoly on national security launches. McCain, chairman of the Armed Services committee, never held a similar meeting, Durbin claims.
The Illinois senator also noted that he included appropriations to fund competition for an American-made replacement to the Russian rocket.
He claims that McCain's proposed Delta IV rocket "would likely cost taxpayers in excess of a billion dollars more than the plan put forward by the Air Force."
Durbin made it clear that he does not sympathize with Putin or support the actions of the Russian government.
"I am co-chairman of the Ukrainian Caucus in the Senate and my long-held feelings about President Vladimir Putin's bloody invasion of that sovereign nation are well established," Durbin said. "Having been personally invited by Sen. McCain to accompany him to Ukraine, he knows his suggestion that he is the only one truly willing to confront Mr. Putin is shameless."
Durbin addressed the U.S. Senate Wednesday to discuss McCain's op-ed and the need to transition to American-made rocket engines.