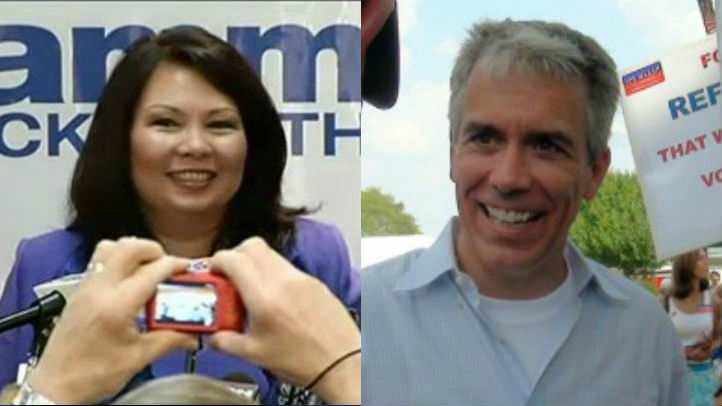 Tammy Duckworth has a big lead over Rep. Joe Walsh, according a new survey from Public Policy Polling.

Duckworth is ahead of Walsh, 52 percent to 38 percent in their 8th Congressional District race. The poll also reveals what an effective job House Speaker Michael Madigan did in redrawing the district to elect a Democrat. In 2008, 53 percent of the survey respondents voted for Barack Obama, while only 39 percent voted for John McCain. This year, 53 percent plan to vote for Obama, while 40 percent plan to vote for Mitt Romney. Those numbers are so close to the Walsh-Duckworth results that it's obvious the congressman never had a chance in this new district. That's why the National Journal named Walsh the most vulnerable incumbent in Congress.

Of course, Walsh's behavior in office is also an issue. Only 35 percent of voters approve of his job performance, and 48 percent say they want to see a new congressman elected. It's hard to say how much of that is motivated by partisanship, and how much by Walsh's controversies, such as the child support dispute with his ex-wife, and his criticism of Duckworth for running on her military record.

The day after the poll came out, The Hill reported that the National Republican Congressional Committee has abandoned Walsh by refusing to buy him TV ads:
The National Republican Congressional Committee (NRCC) has no airtime reserved for three of its most vulnerable incumbents, a sign it might think Reps. Joe Walsh (R-Ill.), Frank Guinta (R-N.H.) and Roscoe Bartlett (R-Md.) are beyond saving at this point.

It looks as though Walsh will be able to keep his promise to serve no more than three terms in Congress.
This month, Ward Room blogger Edward McClelland's Young Mr. Obama: Chicago and the Making of a Black President will be available on Kindle for $9.99. Tracing Obama's career in Chicago from his arrival as a community organizer to his election to the U.S. Senate, Young Mr. Obama tells the story of how a callow, presumptuous young man became a master politician, and of why only Chicago could have produced our first black president.